Tränenregen
German source: Müller, Wilhelm
Wir sassen so traulich beisammen
Im kühlen Erlendach,
Wir schauten so traulich zusammen 
Hinab in den rieselnden Bach.

Der Mond war auch gekommen,
Die Sternlein hinterdrein,
Und schauten so traulich zusammen 
In den silbernen Spiegel hinein.

Ich sah nach keinem Monde, 
Nach keinem Sternenschein, 
Ich schaute nach ihrem Bilde, 
Nach ihren Augen allein.

Und sahe sie nicken und blicken 
Herauf aus dem seligen Bach,
Die Blümlein am Ufer, die blauen, 
Sie nickten und blickten ihr nach.

Und in den Bach versunken 
Der ganze Himmel schien, 
Und wollte mich mit hinunter 
In seine Tiefe ziehn.
Und über den Wolken und Sternen 
Da rieselte munter der Bach,
Und rief mit Singen und Klingen: 
"Geselle, Geselle, mir nach!"

Da gingen die Augen mir über,
Da ward es im Spiegel so kraus; 
Sie sprach: "Es kommt ein Regen, 
Ade, ich geh' nach Haus."
Shower of tears
English translation © Richard Wigmore
We sat together in such harmony 
beneath the cool canopy of alders, 
and in harmony gazed down
into the rippling brook.

The moon had appeared too, 
and then the stars.
They gazed down in harmony 
into the silvery mirror.

I did not look at the moon;
I did not look at the stars.
I gazed only at her reflection, 
and her eyes.

I saw them nod and gaze up 
from the happy brook;
the little blue flowers on the bank 
nodded and glanced at her.

The whole sky seemed 
immersed in the brook
and sought to drag me down 
into its depths.
Above the clouds and stars
the brook rippled merrily,
and called me with its singing and ringing: 
'Friend, follow me!'

Then my eyes filled with tears 
and the mirror became blurred. 
She said: 'It's about to rain. 
Goodbye. I'm going home.'
Translations by Richard Wigmore first published by Gollancz and reprinted in the Hyperion Schubert Song Edition
Tränenregen
German source: Müller, Wilhelm
Shower of tears
English source: Richard Wigmore
Wir sassen so traulich beisammen
We sat together in such harmony 
Im kühlen Erlendach,
beneath the cool canopy of alders, 
Wir schauten so traulich zusammen 
and in harmony gazed down
Hinab in den rieselnden Bach.
into the rippling brook.

Der Mond war auch gekommen,
The moon had appeared too, 
Die Sternlein hinterdrein,
and then the stars.
Und schauten so traulich zusammen 
They gazed down in harmony 
In den silbernen Spiegel hinein.
into the silvery mirror.

Ich sah nach keinem Monde, 
I did not look at the moon;
Nach keinem Sternenschein, 
I did not look at the stars.
Ich schaute nach ihrem Bilde, 
I gazed only at her reflection, 
Nach ihren Augen allein.
and her eyes.

Und sahe sie nicken und blicken 
I saw them nod and gaze up 
Herauf aus dem seligen Bach,
from the happy brook;
Die Blümlein am Ufer, die blauen, 
the little blue flowers on the bank 
Sie nickten und blickten ihr nach.
nodded and glanced at her.

Und in den Bach versunken 
The whole sky seemed 
Der ganze Himmel schien, 
immersed in the brook
Und wollte mich mit hinunter 
and sought to drag me down 
In seine Tiefe ziehn.
into its depths.
Und über den Wolken und Sternen 
Above the clouds and stars
Da rieselte munter der Bach,
the brook rippled merrily,
Und rief mit Singen und Klingen: 
and called me with its singing and ringing: 
"Geselle, Geselle, mir nach!"
'Friend, follow me!'

Da gingen die Augen mir über,
Then my eyes filled with tears 
Da ward es im Spiegel so kraus; 
and the mirror became blurred. 
Sie sprach: "Es kommt ein Regen, 
She said: 'It's about to rain. 
Ade, ich geh' nach Haus."
Goodbye. I'm going home.'

Composer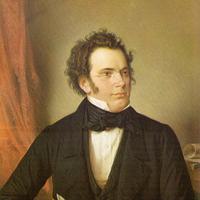 Franz Peter Schubert was an late Classical and early Romantic composer. He produced a vast oeuvre during his short life, composing more the 600 vocal works (largely Lieder), and well as several symphonies, operas, and a large body of piano music. He…
Poet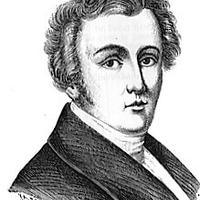 Johann Ludwig Wilhelm Müller was a German lyric poet. Wilhelm Müller was born on October 7, 1794 at Dessau, the son of a tailor. He was educated at the gymnasium of his native town and at the University of Berlin, where he devoted himself to…
Performances
Previously performed at: