Der Wanderer
German source: Lübeck, Georg
Ich komme vom Gebirge her,
Es dampft das Tal, es braust das Meer.
Ich wandle still, bin wenig froh,
Und immer fragt der Seufzer: wo?

Die Sonne dünkt mich hier so kalt,
Die Blüte welk, das Leben alt,
Und was sie reden, leerer Schall,
Ich bin ein Fremdling überall.

Wo bist du, mein geliebtes Land?
Gesucht, geahnt und nie gekannt!
Das Land, das Land, so hoffnungsgrün,
Das Land, wo meine Rosen blühn,

Wo meine Freunde wandeln gehn,
Wo meine Toten auferstehn,
Das Land, das meine Sprache spricht,
O Land, wo bist du?

Ich wandle still, bin wenig froh,
Und immer fragt der Seufzer: wo?
Im Geisterhauch tönt's mir zurück:
"Dort, wo du nicht bist, dort ist das Glück!"
The Wanderer
English translation © Richard Wigmore
I come from the mountains;
the valley steams, the ocean roars.
I wander, silent and joyless,
and my sighs for ever ask: Where?

Here the sun seems so cold,
the blossom faded, life old,
and men's words mere hollow noise;
I am a stranger everywhere.

Where are you, my beloved land?
Sought, dreamt of, yet never known!
The land so green with hope,
the land where my roses bloom,

Where my friends walk,
where my dead ones rise again,
the land that speaks my tongue,
O land, where are you?

I wander, silent and joyless,
and my sighs for ever ask: Where?
In a ghostly whisper the answer comes:
'There, where you are not, is happiness!'
Der Wanderer
German source: Lübeck, Georg
The Wanderer
English source: Richard Wigmore
Ich komme vom Gebirge her,
I come from the mountains;
Es dampft das Tal, es braust das Meer.
the valley steams, the ocean roars.
Ich wandle still, bin wenig froh,
I wander, silent and joyless,
Und immer fragt der Seufzer: wo?
and my sighs for ever ask: Where?

Die Sonne dünkt mich hier so kalt,
Here the sun seems so cold,
Die Blüte welk, das Leben alt,
the blossom faded, life old,
Und was sie reden, leerer Schall,
and men's words mere hollow noise;
Ich bin ein Fremdling überall.
I am a stranger everywhere.

Wo bist du, mein geliebtes Land?
Where are you, my beloved land?
Gesucht, geahnt und nie gekannt!
Sought, dreamt of, yet never known!
Das Land, das Land, so hoffnungsgrün,
The land so green with hope,
Das Land, wo meine Rosen blühn,
the land where my roses bloom,

Wo meine Freunde wandeln gehn,
Where my friends walk,
Wo meine Toten auferstehn,
where my dead ones rise again,
Das Land, das meine Sprache spricht,
the land that speaks my tongue,
O Land, wo bist du?
O land, where are you?

Ich wandle still, bin wenig froh,
I wander, silent and joyless,
Und immer fragt der Seufzer: wo?
and my sighs for ever ask: Where?
Im Geisterhauch tönt's mir zurück:
In a ghostly whisper the answer comes:
"Dort, wo du nicht bist, dort ist das Glück!"
'There, where you are not, is happiness!'

Composer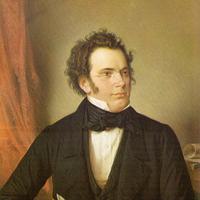 Franz Peter Schubert was an late Classical and early Romantic composer. He produced a vast oeuvre during his short life, composing more the 600 vocal works (largely Lieder), and well as several symphonies, operas, and a large body of piano music. He…
Poet
Performances
Upcoming Performances
Previously performed at: