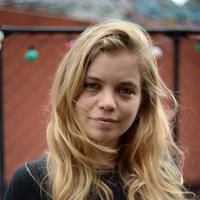 Héloïse Werner's debut album PHRASES will be out on 24 June 2022 on Delphian Records, generously supported by the PRS Foundation Open Fund, The Ambache Trust, The RVW Trust and the Nicholas Boas Charitable Trust.
Recipient of the Michael Cuddigan Trust Award 2018 and Linda Hirst Contemporary Vocal Prize 2017, French-born and London-based soprano and composer Héloïse Werner was one of the four shortlisted nominees in the Young Artist category of the Royal Philharmonic Society Music Awards 2017 and one of BBC Radio 3's 31 under 31 Young Stars 2020.
As a soprano, Héloïse has recently made her debut with the London Chamber Orchestra, the Nash Ensemble and appeared in The Grange Festival's production of Precipice as the singing narrator. She also premiered Freya Waley-Cohen's Spell Book (Volume 2) for soprano and string quartet at Conway Hall, written for her and the Tippett Quartet, which they will perform again at the Wigmore Hall in 2023.  Héloïse is also soprano and co-director for contemporary quartet The Hermes Experiment (soprano, clarinet, harp and double bass). They won the RPS Young Artist Award 2021 and the Royal Over-Seas League Mixed Ensemble Competition 2019. Capitalising on their deliberately idiosyncratic combination of instruments, the ensemble regularly commissions new works (over 60 to date), as well as creating their own innovative arrangements and venturing into live free improvisation. They have released two albums, both on Delphian Records, to critical acclaim –  HERE WE ARE  (Presto Classical Recording of the Year, Gramophone Editor's Choice, The Guardian's 10 Best Contemporary Albums of 2020) and SONG  (Gramophone Editor's Choice).
As a composer, Héloïse has written for musicians including violist Lawrence Power, bassoonist Amy Harman, pianist Mishka Rushdie Momen, mezzo-soprano Marielou Jacquard, pianist Kunal Lahiry, violinist Fenella Humphreys, mezzo-soprano Helen Charlston, The Gesualdo Six, The Bach Choir, CoMA, mezzo-soprano Grace Durham and Miller-Porfiris Duo. Upcoming 2022/23 commissions include new works for Radio France and Wigmore Hall.  A selected list of her works is available here.
In 2019, Héloïse performed her solo opera The Other Side of the Sea at Kings Place as part of their Venus Unwrapped series  ("you can't help but be dazzled by it" **** The Times).  Written in collaboration with poet Octavia Bright, director Emily Burns and visual artist Jessie Rodger, the opera explores language and identity. It was first premiered in London & Aldeburgh in 2018, with generous support from The Michael Cuddigan Trust, and developed in 2017 during a Snape Maltings residency under the mentorship of Zoë Martlew. In 2016, Héloïse starred in Jonathan Woolgar's acclaimed one-woman opera Scenes from the End at London's Tristan Bates Theatre, following on from successful runs at the Camden and Edinburgh Fringe Festivals.
Héloïse was born in Paris and was a member of the 'Maîtrise de Radio France' for six years. At the same time, she studied the cello at the Conservatoire Maurice Ravel with Valérie Aimard. She then read music at Clare College, Cambridge, where she was a choral scholar. At Cambridge, she studied composition with Giles Swayne and won the 2011 Clare College Carol Competition. In 2009, she was awarded the 'Creation Prize' from the Conservatoire Maurice Ravel for her songs for piano and voice, which she performed as part of her cello final diploma. She completed her vocal studies with Alison Wells and coach Anna Tilbrook on the MMus course at Trinity Laban Conservatoire of Music and Dance as a Linda Pilgrim Charitable Trust Scholar and a Help Musicians UK Postgraduate Award holder.
Héloïse is represented by Rayfield Allied.
Click here to visit Héloïse's website.