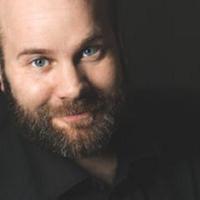 Since his debut as Papageno at the Drottningholm Court Theatre, Jakob Högström has established himself as one of the most interesting and sought after baritones in Sweden. With his strong stage presence and impressive text delivery Jakob effortlessly connects with his audience. He studied at Kulturama Stockholm, the Royal Academy of Music in London and the University College of Opera in Stockholm.
His successful debut was followed by the title role in Le Nozze di Figaro with Arnold Östman at Malmo Opera, Marchese in Cimarosa's Il marito disperato for Fäviken Opera Festival and Aeneas in Purcell's Dido and Aeneas conducted by Mark Tatlow. Jakob has successfully created roles in world premières of modern operas, for example Baines in B Tommy Andersson's William for the Vadstena Academy and Herr Snipa in Jonas Forsell's Träskoprinsessan at Malmo Opera. Jakob sang Testo in Monteverdi's Il Combattimento di Tancredi e Clorinda with the Drottningholm Baroque Ensemble and also with Arnold Östman at Confidencen. He then sang Fallito in Gassmann's L'Opera Seria with Fäviken Opera and at Drottningholm Court Theater. Jakob sang Baron Zeta in the well praised production of Lehár's The Merry Widow at Folkoperan in Stockholm.
Jakob is furthermore a sought after concert soloist. His repertoire includes the major works of Bach, Handel, Mozart, Beethoven and Mahler. Jakob recently performed songs from Mahler's Des Knaben Wunderhorn and the Barefoot songs by Allan Pettersson with the Nordic Chamber Orchestra. He was the soloist in Lars-Erik Larsson's Förklädd Gud with the Swedish Radio Symphony Orchestra and conductor Thomas Søndergaard in a production by the Swedish Television to commemorate the centenary of the composer's birth. He has collaborated with conductors such as Arnold Östman, Mark Soustrot, Roy Goodman, Johannes Gustavsson, Håkan Hardenberger, Shi-Yeon Sung and Andrew Manze.
He made his debut at Opéra Comique in Paris 2008 as Narbanor in Rameau's Zoroastre with Les Talens Lyriques and Christophe Rousset. Then he sang Dandini in a new production of Rossini's La Cenerentola at Malmo Opera with conductor Brad Cohen. The following season included parts such as Stravinsky's Oedipus Rex at the same opera house and Pulcinella by Stravinsky at NorrlandsOperan. Last summer he joined another production of the Magic Flute at Confidencen, where Jakob's Papageno once again won over the audience with his profound dramatic talent.
Jakob has also sung Joseph Babinski in the world premiere of Blanche & Marie by Mats Larsson Gothe and Maria Sundqvist at NorrlandsOperan and the title role in The First Emperor in the world premiere of Son of Heaven by Moto Osada at the International Vadstena Academy.
Among recent and upcoming engagements to be mentioned are The Bard in Stenhammar's Tirfing at Malmö Opera, Figaro in Le Nozze di Figaro at Confidencen, Shaunard in La Boheme and Forester in The Cunning Little Wixen, both at Norrlandsoperan and Marcello and Frédéric (Lakmé), both at Malmö Opera.
Autumn 2018 Jakob was singing the role Baron Dauphol in La Traviata and in the spring 2019 he has been singing the role Spalatin in Schlag sie tot, both at Malmö Opera.
Jakob Högström has recorded Franz Schubert Winterreise with Duo Dialog 2014.