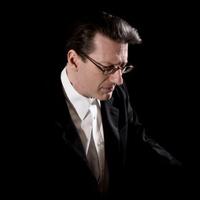 © Hannan Images
Welsh pianist Llŷr Williams is widely admired for his profound musical intelligence, and for the expressive and communicative nature of his interpretations. He has performed with all the major UK orchestras under conductors including Michael Tilson Thomas, Jiří Bělohlávek, Carlo Rizzi, Vasily Petrenko, Jaime Martín, Osmo Vanska , Joseph Swensen, Grant Llewellyn and Jac Van Steen, and he has a particularly longstanding relationship with the BBC National Orchestra of Wales, with whom he has in recent seasons performed concertos ranging from Mozart and Beethoven to Bartók and Mathias.
As a recitalist, Llŷr Williams regularly performs at venues and festivals including Wigmore Hall, Perth Concert Hall, the St David's and Dora Stoutzker Halls in Cardiff, and the Edinburgh and East Neuk Festivals. His long association with the Royal Welsh College of Music and Drama has included acclaimed multi-recital cycles of Beethoven, Schubert,and Chopin. The 2023-24 season sees him returning to Wigmore Hall, as well as the start of a six-recital Haydn-Mozart-Schumann series at the Royal Welsh College of Music and Drama. Further afield, the season includes return invitations to the Festival Cultural de Mayo in Guadalajara for a complete Beethoven Sonata cycle, the Capital Region Classical series in Schenectady, USA and Salle Bourgie in Montreal, and his debut at the 'Le Piano Symphonique' festival in Lucerne.
Llŷr Williams has also performed as a chamber musician alongside artists including Bryn Terfel, Natalie Clein, Tim Hugh, Katarina Nazarova and Jamie Barton. In 2023-34, collaborations include projects with Mark Padmore, violist Rosalind Ventris and baritone Andrei Kymach. His particular interest in song repertoire is reflected in his 20-year association as one of the two official pianists of the BBC Cardiff Singer of the World competition.
Llŷr Williams' discography reflects his long-standing partnership with Signum Records; January 2024 sees the release of his latest recording of works by Schumann; his previous releases include the 8-disc box-set 'A Schubert Journey' (2020), the 12-volume 'Beethoven Unbound' (2018), a 'Wagner Without Words' double album (2014) and highlights from Liszt's 'Années de pèlerinage' (2012). He has also recorded William Mathias' second Piano Concerto with the BBC National Orchestra of Wales, as well as works by Welsh composers for the Tŷ Cerdd label.
A former BBC New Generation Artist and Borletti-Buitoni Trust award recipient, Llŷr Williams was born in Pentrebychan, North Wales, and read music at The Queen's College, Oxford before taking up a postgraduate scholarship at the Royal Academy of Music. He is an Honorary Fellow of the Royal Welsh College of Music and Drama, and in 2017 was awarded an Honorary Doctorate from the University of Wales. He is also currently Artist-in-Association at the Royal Welsh College of Music and Drama, a patron of the Gower Festival, and Associate Artist at the Cowbridge Festival.
Updated: 26/09/2023