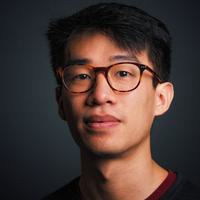 © Ben Tomlin
Alex Ho (b.1993) is a British-Chinese composer based in London and a BBC Music Magazine Rising Star 2022. Described as "a rich tapestry" and "by far the most emotionally engaged" (Schmopera), his music explores issues of cultural identity and social consciousness, and ranges from opera, orchestral, ensemble, vocal, choral, and solo works, to pieces for ensembles of Chinese and western instruments, to compositions for plastic bags, table-tennis players, and audience participation. Alex is Artist-in-Residence at Opéra Orchestre National Montpellier, Associate Composer at Oxford Lieder Festival, and the proud co-director of Tangram, the first UK-based collective of composers and performers of Chinese and western instruments most recently appointed Associate Artists at LSO St Luke's. He is supported by Glyndebourne Opera's 3-year residency programme, Balancing the Score.

With a particular interest in retracing boundaries of contemporary classical music, Alex has collaborated on interdisciplinary projects with movement/dance, architecture, glass sculpture, and VR design. His digital piece for narration, stop-motion animation, and found sounds co-created with theatre-maker Elayce Ismail, AMAZON, won the UK Critics' Circle Young Talent Award 2021 for its "ingenious use of found sounds [making it] one of the most original multi-media works to come out of lockdown". Alex was also nominated for a Scottish New Music Award 2021 for his music theatre piece, Breathe and Draw, scored for two conductors, sinfonietta, and audience participation which was lauded as "impressively inclusive" and a "fresh, different idea, that captured the imagination". He has had two operas nominated for the FEDORA Prize 2022 and been awarded the PRS Composers' Fund 2022 and the RPS Drummond Fund 2023.

The 2022/23 season includes the full premiere of Alex's music theatre piece, Untold, at Concertgebouw Brugge and O. Festival Rotterdam produced by Muziektheater Transparant, a new orchestral piece to unveil the new season at Opéra Orchestre National Montpellier followed by performances of his second opera, Étape par étape, on the opera house's mainstage, two new works for mezzo-soprano Fleur Barron commissioned by Oxford Lieder Festival and Het Concertgebouw respectively, and a commission from the Royal Philharmonic Society for the Manchester Camerata.​
Commission highlights include two chamber pieces for the London Symphony Orchestra (2019, 2020), a double bass concerto for the London Philharmonic Orchestra (2022), a commission for erhu and orchestra from the Shanghai Philharmonic Orchestra (2016), vocal commissions from the Royal Opera House (2022) and National Opera Studio (2020), a site-specific work for the Barbican Centre commissioned by Musicity (2019), a commission for traditional Chinese string quartet from the Silk String Quartet (2018/21), an open score piece for four instruments and audience participation commissioned and premiered by Tangram at LSO St Luke's (2020) and subsequently performed at Southbank Centre by London Sinfonietta, a miniature for solo double bass commissioned by BBC Radio 3 (2020) as part of their 'Postcards from Composers' series, and further particularly joyful commissions from Riot Ensemble (2021), Nevis Ensemble (2020), and National Youth Choirs of Great Britain (2021).
Alex was joint-winner of the Philip Bates Composition Competition in 2016, one of Sound and Music's 'New Voices 2018', a Help Musicians UK Fusion Fund Artist in 2019, one of the LSO's 'Soundhub' composers from 2018-2020, winner of the George Butterworth Award 2020, and a Sound Generator Artist 2021. His music has been heard in venues across the UK, Austria, Canada, France, Germany, Italy, Netherlands and China, on platforms including SoundState Festival (Southbank Centre, London), Sound Unbound (Barbican Centre, London), Hearing China (Shanghai Symphony Hall, Shanghai), O. Festival Rotterdam, Chinese Arts Now (LSO St. Luke's, London), nonclassical (London), Snape Maltings, Cheltenham Music Festival, Oxford Lieder Festival, Crossroads Festival (Salzburg, Austria), and BBC Late Junction.
Additional appearances include features on BBC Free Thinking, I CARE IF YOU LISTEN, VAN Magazine, British Music Collection's '50 Things', a series offering "a bold new perspective on the recent history of new music in the UK" celebrating BMC's 50th anniversary, Oxford University's 'Race and Resistance' programme, bringing together "researchers, students, and activists in the history, literature, and culture of anti-racist movements across the modern world", and interviews on Soho Radio, New Ratio Podcast and the Classical Music Pod. Alex curated a blog series for British Music Collection investigating the relationship between transnational identity and composition released in July 2020.​
In 2019, Alex co-founded Tangram, an artist collective growing transnational community by creatively celebrating Chinese cultures. Made up of researchers, composers and performers of Chinese and western instruments, Tangram won Nonclassical's Battle of the Bands 2019, were recipients of Chinese Arts Now's Artist Development Bursary 2019, and are Associate Ensemble at SOAS University of London. Most recently, they have been awarded the inaugural Live Work Fund from Jerwood Arts and Genesis Foundation's Kickstarter Fund. Through the emotional languages of music, Tangram hope to transcend the pervasive assumption that China and the West are mutually exclusive entities, in favour of imagining more interconnected futures.
Alex studied Music at Oxford University and graduated with first-class honours in 2016 before completing a master's in composition at Cambridge University in 2017 where he was awarded the Arthur Bliss Prize in Composition for his final portfolio that attained the highest mark across the university. He is currently studying for a doctorate at the Royal College of Music with a full AHRC scholarship (LAHP Studentship supported by RCM). Alex is hugely grateful for the support he has received to further his musical development from Arts Council England, Help Musicians UK, PRS Foundation, RVW Trust, Fidelio Charitable Trust, Garrick Charitable Trust, Les Azuriales Opera Trust, and Susie Thompson.
Updated: 21/05/2023