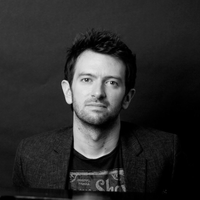 With a prominent background in both solo and song-accompaniment, Alisdair Hogarth is a versatile pianist combining a robust technique with a fresh, contemporary approach. He made his concerto debut in 1996 as soloist with the London Philharmonic Orchestra at the Queen Elizabeth Hall.
Hogarth has broadcast for BBC Radio 3 and Classic FM. Performances have included recitals at Wigmore Hall (including live evening recitals for BBC Radio 3) and the Concertgebouw Amsterdam, as well as recitals for international festivals. 
Committed to song-accompaniment, Hogarth is the Director and pianist of The Prince Consort. They made their Wigmore Hall debut in 2009 in which they were joined by Graham Johnson. Their first recording for Linn Records, Ned Rorem – On an echoing road –, was Gramophone Editor's Choice in addition to being named 'Outstanding' in International Record Review.
Recordings include Rachmaninov and Sibelius songs with Jacques Imbrailo, Brahms Liebeslieder with The Prince Consort, and Hough's Other Love Songs with Philip Fowke and Stephen Hough.
He has commissioned and premiered new pieces by Ned Rorem, Stephen Hough, Cheryl Frances-Hoad, Graham Ross, Gwilym Simcock.
Hogarth studied with Philip Fowke and John Blakely.
Updated: 21/05/2023