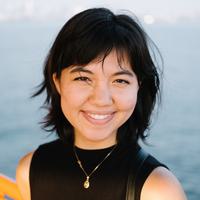 Amber Scherer is a Korean-German pianist and educator. In May 2021, she graduated from Oberlin College & Conservatory with degrees in Psychology and Piano Performance. Amber then spent a year as a Resident Teaching Artist for the AmeriCorps/ArtistYear program in Queens, NY and as a Piano Faculty member at the Brooklyn Music School. Currently, she is pursuing a Master's in Collaborative Piano at The Juilliard School, working with Professors Jonathon Feldman and Lydia Brown. Amber will simultaneously continue her work on faculty at the Brooklyn Music School and Virtu.Academy.
Amber is a recipient of the 2022 Segal Education Award from the U.S. Department of Education. She works both as a performer and educator. Most recently, she worked as staff pianist and vocal coach at the Chautauqua Opera Conservatory and on staff at the Harpa International Music Festival.
Amber has worked to support causes of accessibility and diversity in music. In Brooklyn and Queens, NY, she has taught outreach courses at public schools. Amber hopes to continue studying performance, music therapy, and education, focusing on improving access and engagement with the arts.