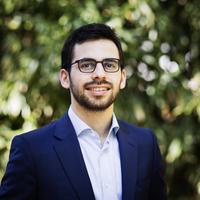 Aron Goldin is a British pianist and writer. Aron trained as a pianist at the Royal Academy of Music under Malcolm Martineau, James Baillieu and Michael Dussek, where he was the recipient of four Principal Scholarships and graduated with an Advanced Diploma, Professional Diploma and Masters in Piano Accompaniment – with Distinction – as well as an honorary Diploma of the Royal Academy. During his time at the Royal Academy, Aron appeared in numerous masterclasses with pianists Helmut Deutsch, Hartmut Höll, Iain Burnside, and Sholto Kynoch; with vocalists Dame Sarah Connolly, Christian Gerhaher, Lucy Crowe, and Brindley Sherratt; and shared a platform with artists including Patricia Petibon and Susan Manoff.

Aron has performed at Wigmore Hall, Holywell Music Room, the Elgar Concert Hall, Leeds Lieder, Leeds International Concert Series, Oxford Lieder and on BBC Radio 3. In 2022, he also performed in the Royal Academy's Bicentenary Song Circle at Wigmore Hall and was selected as an Oxford Lieder Young Artist for 2022-24. Opera Today described him as "an eloquent and responsive" pianist, who "beautifully shapes melody" and "provides nuanced drama".
Aron's debut album Homelands was released on the Rubicon Classics label in October 2023. The album featured Ian Bostridge, Jennifer France, James Atkinson and Wonsick Oh and was produced by Simon Kiln with the support of Steinway & Sons. In its first week, the album entered the UK Classical Chart Top 10. A concert of Homelands, with singers Mary Bevan and Ian Bostridge, and actor Sir Simon Russell Beale, combined art-song with performances of poetry to raise funds for Afghan schoolgirls fleeing as refugees from Kabul.
Prior to his studies at the Royal Academy, Aron read English Literature at Trinity College, Cambridge, where he was a Senior Scholar and received the Examinations Prize for achieving the top Double First in his year. In addition to his work as a musician, Aron is a screenwriter and novelist. He has written film scripts and television drama for film studios, television networks and production companies in the UK, USA and Europe. His debut novel was bought by UK publisher Pushkin Press in a two-book deal and will be published in Autumn 2024. He is represented as a writer by the literary agency Curtis Brown.
In Spring 2024, Aron will record his second album with South African soprano Masabane Cecilia Rangwanasha, at Abbey Road Studios in London.
Biography updated Nov 23