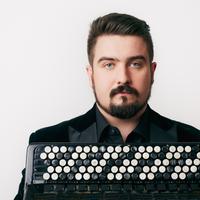 Described as "versatile, full of charisma, characterized by extraordinary care for sound quality" (Fiona Maddocks – The Observer), the accordionist Bartosz Glowacki certainly shows the qualities of a rising star. Winner of numerous competitions, he was awarded the Polish Young Musician of the Year in 2009 and represented Poland at the Eurovision for Young Musician Competition in Vienna. In 2011 Bartosz was offered a place under the tutelage of Owen Murray at the Royal Academy of Music where he graduated with honours in 2016.
He has performed as a soloist in prestigious concert halls including the Wigmore Hall, the Royal Festival Hall, the Barbican, the Royal Albert Hall, La Salle Cortot and the Witold Lutosławski Concert Studio of Polish Radio. Bartosz is recognized as an active chamber musician. Founder of the Deco Ensemble, he has worked with renowned artists from various musical worlds, such as Nigel Kennedy, Trevor Pinnock, Atom String Quartet, Tanita Tikaram, and the Manchester Collective. He also plays regularly with international orchestras and companies, including the London Symphony Orchestra, the Royal Philharmonic Orchestra, the London Sinfonietta, the Chroma Ensemble, the National Theatre and the Royal Opera House in London. He recently worked with the Apartment House group for their revival of the opera Dejligt vejr i dag, n'est-ce pas, Ibsen? by Henning Christiansen in New York and Copenhagen.
Bartosz is a City Music Foundation Artist and has received numerous awards from the Zygmunt Zaleski Foundation, the Countess of Munster Musical Trust, the Biddy Baxter and John Hosier Music Trust, the Ministry of Culture and National Heritage of Poland. He was selected to be part of the 'Open Space' residency at Snape Maltings in 2016 and recently won the 'Sir John Manduell Prize' at the Bromsgrove International Competition.
Bartosz's love for tango and works by Astor Piazzolla, Gustavo Beytelmann and Osvaldo Pugliese encourage him to play the bandoneon. He performs regularly in many groups including Deco Ensemble, London Tango Orchestra and Almagro Ensemble. He recently recorded an album with The London Tango Orchestra and the bandoneon parts for the new The Lion King at Disneyland Paris.
Student of Professors Grzegorz Bednarczyk and Andrzej Smolik, Bartosz was offered a place under the tutelage of Owen Murray at the RAM where he graduated with honours and received the Regency Award in 2016. Bartosz plays an accordion by Pigini (model Sirius Millennium) and he would like to thank the City Music Foundation for their financial and artistic support.
In 2020 Bartosz has released his debut album "Genesis" featuring solo accordion works and double concerto with British jazz guitarist Rob Luft. This album has been praised by the critics as "fascinating tour through the centuries" (Göran Forsling), "absolute must" (Adam Baruch) and "showcase of some terrific playing and fine contemporary writing for the instrument" (Robert Hugill).