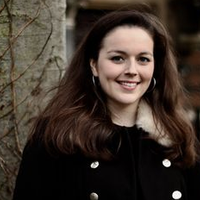 Bernadette Johns is a British-French mezzo-soprano training at Royal Academy Opera (RAO), London with Giles Underwood and Joseph Middleton. She is a recipient of the Help Musicians Sybil Tutton Opera Award and the Carr-Gregory Trust Award, and is supported by the Clive and Sylvia Richards Charity. Bernadette holds a Master of Arts in Performance with Distinction, and was awarded a Diploma of the Royal Academy of Music for an outstanding final recital. She previously studied Music at the University of Oxford.

Bernadette made her Leeds Lieder debut in March 2021 as a Momentum Artist with pianist Alexandra Standing. Bernadette was the 2019 Richard Lewis Song Prize winner, a 2020 Leeds Lieder Young Artist and a finalist in the 2019 Somerset Song Prize. She regularly performs as a member of the Academy Song Circle.

In November 2020 Bernadette made her role debut as Hippolyta in A Midsummer Night's Dream for RAO. She has performed a diverse range of roles in scenes, including the title role in Giulio Cesare in Egitto, Maman L'enfant et les sortilèges, Isabella L'Italiana in Algeri, Octavian Der Rosenkavalier, Idamante Idomeneo, Marcellina Le nozze di Figaro, Giovanna Seymour Anna Bolena and Dritte Dame Die Zauberflöte.

A Bach Scholar for the 2019 'Bach the European' concert series, Bernadette's solo concert performances include St. Matthew Passion with Trevor Pinnock, B Minor Mass with Masaaki Suzuki, BWV 106 'Actus Tragicus' with Philippe Herreweghe and Delalande's De Profundis with John Butt. In October 2020 she performed Bach's solo cantata 'Widerstehe doch der Sünde' with Rachel Podger and Laurence Cummings to open the 2020 'Bach the European' concert series. Further concert performances include Bach Christmas Oratorio (Kilgour Consort/Merchant Taylors' Hall), Handel Messiah (Ludlow Festival), Haydn Missa Sancti Nicolai (Thames Philharmonic Choir), Vivaldi Magnificat and Gloria, and a performance of the St. Matthew Passion alongside Nicholas Mulroy and Matthew Brook.

Upcoming engagements for Spring 2021 include Dorabella (cover) Così fan tutte (RAO/April 2021) and Dido Dido and Aeneas (RAO/May 2021).