Cheryl Frances-Hoad
Composer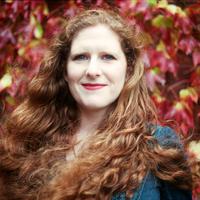 Cheryl Frances-Hoad was born in Essex in 1980 and received her musical education at the Yehudi Menuhin School, the University of Cambridge (where she was awarded a double 1st for her BA in Music and a distinction for her MPhil in Composition) and Kings College London (PhD, Composition). Her music has been described as "like a declaration of faith in the eternal verities of composition" (The Times), with "a voice overflowing not only with ideas, but also with the discipline and artistry necessary to harness them" (The Scotsman).
Chosen to be a featured composer on BBC Radio 3's 'Composer of the Week' ('Five under 35, March 2015), her works have garnered many awards, from the BBC Lloyds Bank Composer of the Year award when she was just 15 to more recently the Mendelssohn Scholarship, The Bliss Prize, The Cambridge Composers Competition, The Robert Helps International Composition Prize (USA), The Sun River Prize (China), The International String Orchestra Composition Prize (Malta), The RPS Composition Prize, and the BASCA British Composer Awards (where she became the youngest composer to win two awards in any year for Psalm 1 and Stolen Rhythm in 2010).
She has received two awards from the PRS Women Make Music Fund for The Madness Industry (a brass quintet for Onyx Brass) and Sailing to the Marvellous (a ninety minute oratorio for four choirs and ensemble for Bridlington Priory) and has held the posts of Leverhulme Musician in Residence (at the University of Cambridge Psychiatry Department, 2008), Rambert Composer in Residence (2012/13), and Opera North/Leeds University Cultural Fellow in Opera Related Arts (2010/12).
Cheryl has released four celebrated CDs. The latest, of vocal music (featuring Nicky Spence, Sophie Daneman, Mark Stone and Sholto Kynoch amongst others) was released on the Champs Hill Records label in November 2018. Magic Lantern Tales has been highly praised: "the longer you listen to this beautifully crafted CD (…) the deeper you fall under its spell" (SWR2 Treffpunkt Klassik, Germany), "Frances-Hoad's Magic Lantern Tales disorientate and delight in equal measure." (Opera Today). Her 2011 CD of chamber works, The Glory Tree, was selected as "Chamber Music Choice" by BBC Music Magazine.
Cheryl's works include two piano concertos, a Cello Concerto (Katharsis), three piano trios, a ninety minute opera about the life of Amy Johnston (Amy's Last Dive with librettist Adam Strickson), and several large scale works involving young musicians (A Young Person's Guide to Composition was premiered by the London Chamber Orchestra and 150 children conducted by Christopher Warren Green in May 2014). 2015 saw Cheryl's BBC Proms debut with a new work for the Cardinall's Musick entitled From the Beginning of the World.
Recent projects include Last Man Standing, a work for Marcus Farnsworth and the BBC Symphony Orchestra with librettist Tamsin Collison (commissioned for the Armistice Centenary) that premiered at the Barbican in London in November. Future projects include a new work for the Covent Garden Chamber Orchestra for Spring 2019 and a composer residency with Presteigne Festival 2019.