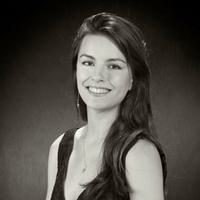 Soprano Clara Orif currently performs with Royal Academy Opera and is an Oxford Lieder Emerging Artist. Born in Paris into a Scottish family and based in London, Clara Orif started out her singing career at a very early age at the renowned Maîtrise de Radio France, under the direction of Sofi Jeannin. Alongside her vocal studies, she successfully trained as an organist at the Conservatoire Régional de Paris (CRR). After graduating in Musicology from La Sorbonne in Paris, she joined the Royal Academy of Music in London, studying with Mary Nelson, James Baillieu and Jonathan Papp, to complete a Master's degree in Voice (2022).
Clara Orif is a winner of the Richard Lewis / Jean Shanks Award and the Isabel Jay prize (2022). She is generously supported by the London Women's Clinic Foundation Award. 
Clara Orif's engagements include the roles of Adina, Marie, and Armida, and was Iphis in Haendel's Jephtha at the 2023 Petersfield Festival. After playing Barbarina in the Royal Academy's production of The Marriage of Figaro, Clara takes up the leading role of Fanny in their 2023 production of Rossini's La cambiale di matrimonio. She works with the English Touring Opera and has been collaborating as a solist since 2020 with the Bournemouth Symphony Orchestra & Chorus in their productions of Fauré's Requiem, Orff's Carmina Burana and Haydn's Nelson Mass.
Updated: 28/05/2023