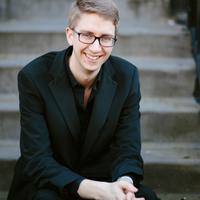 Ian Tindale has performed across London, the UK and Europe. Following studies at Selwyn College, Cambridge and the Royal College of Music, London, Ian was awarded the Pianist's Prize in the Wigmore Hall/Kohn Foundation Song Competition in 2017, and he has been the recipient of accompaniment prizes at the Kathleen Ferrier Awards, Royal Overseas League Music Competition and the Gerald Moore Award. Ian is a Britten Pears Young Artist and a Samling Artist. 
Concert highlights have included a recital in the Leeds Lieder Festival with tenor Nick Pritchard including Daniel Kidane's Songs of Illumination (world premiere), and with regular duo partner and soprano Harriet Burns at the Oxford Lieder Festival and International Lied Festival Zeist (ILFZ). Harriet and Ian have also been awarded a number of prizes as a duo, including the Contemporary Song Prize in the International Vocal Competition in 's-Hertogenbosch and the Maureen Forrester Second Prize and Prize for German Song in the Concours Musical International de Montreal. 
Ian's other performances have included UK appearances at the Wigmore Hall, Sage Gateshead and Snape Maltings Concert Hall with artists such as Soraya Mafi, James Newby, and Roderick Williams. Further afield, in the 2018-19 season Ian performed with baritone and ECHO Rising Star Josep-Ramon Olivé in recitals across Europe including Amsterdam's Concertgebouw and Palau de la Música in Barcelona. In the coming season, Ian will be performing with Harriet Burns at Lewes Festival of Song and ILFZ, at the Oxford Lieder Festival with Nick Pritchard, and at Wigmore Hall for the Ludlow English Song Festival with Ailish Tynan and Robin Tritschler. Ian has also founded his own song festival, Shipston Song, whose inaugural season takes place in September 2022.