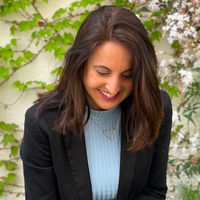 Her musicality and vocal versatility have allowed her to create a career that spans from medieval to contemporary music. Born in 1989 in Palma de Mallorca, Irene Mas Salom began her music training at the "Teatre Principal de Palma" Choir, where she started her experience on stage with different operas (Die Zauberflöte, Falstaff, Tosca, La Bohème, Turandot, Meffistofele, Carmen, La Traviata or Il Trovatore), and Theatre performances. At the age of six she started her violin studies, and she achieved the Professional Music Diploma with Honours and the Higher Degree in 2012 with A. León Ara and J.M. Álvarez Losada at Conservatori Superior de les Illes Balears.
Afterwards she started her vocal studies, where she obtained the First Prize in Chamber Music and in Voice Studies at Final's Professional Degree Awards. In May 2012 she received the "Young Promises" Prize granted by the Foundation Ferrer Salat to attend her Higher Education at the Conservatori Superior del Liceu ( Barcelona) where she achieved the Higher Degree in June 2016 with Dolors Aldea and Marta Pujol. She expanded her training with Wolfgang Rieger, Francisco Poyato, Malcolm Martineau, Manuel García Morante, Sholto Kynoch, Janet Perry and Nelly Miricioiu.
She has won awards at several International Singing Competitions, and made her debut at Palau de la Música Catalana Main Hall, taking part in the El Primer Palau Competition, where she achieved Second Prize and a Special Prize granted from Juventudes Musicales de España. She has also received the Extraordinary Prize granted by Fundació Ferrer-Salat at Tenor Viñas Competition, First Prize and a special prize at "Concurs Internacional de Música de les Corts", Third Prize at "Concurs Internacional Germans Plà Ciutat de Balaguer", Third Prize at "Concurs Internacional Josep Palet de Martorell" and Second Prize at "XX Concurs Internacional l'Arjau".
She has received awards from many institutions such as Fundació Ferrer-Salat, AIE Madrid Foundation, Sabadell Opera Academy, Jordi Savall Professional Training Academy, Life Victoria Lied Festival and Schubertiada of Vilabertran.
She has played operatic roles such as Sophie (Werther-J.Massenet), Zerlina (Don Giovanni- W.A.Mozart), Susanna (Le nozze di Figaro - W.A.Mozart), Sofia (Il signor Bruschino - G.Rossini), Giulia (La scala di seta - G.Rossini), Gianetta (L'elisir d'amore - G.Donizetti), Belinda (Dido & Aeneas - H.Purcell), King Arthur (H.Purcell) as well as a wide concert repertoire that includes Requiem and Vesperae Solenne de Confessore (W.A.Mozart), Requiem (G.Fauré), Gloria (A.Guinovart), Missa per la pau (S.Brotons) Oratorio de Noël (C.Saint-Saëns), Mass in G Major (F.Schubert), Missa Minuit and Te Deum (M.A.Charpentier), el Retablo de Maese Pedro ( M. De Falla) Mass in G Major op.86 (A.Dvôrak), Mass St.Johannis de Deo (J.Haydn), Weinachtsoratorium, Magnificat and Cantaten 82,29,129,51,147, 84,140 (J.S.Bach), Rejoice in the Lamb (B.Britten) among others, and an intense Lieder activity with pianists Valentina Pfister and Marc Serra.
Recent recordings include Mahler's 4th Symphony with the OSIB and La Missa Criolla by A. Ramírez with the Zurich Kammerorchester for Deutsche Grammophon, and music by W.Jackson, together with Emma Kirkby for Tocatta Classics of London as well as several recordings for Alia Vox with Capella Reial de Catalunya - Jordi Savall.
She has developed her career in Finland, Mexico, Bulgaria, England, Hungary, Switzerland, Austria, France, India, and Korea, and collaborates with groups such as La Capella Reial (J. Savall), La Grande Chapelle (A.Recasens) and Los Músicos de su Alteza (L.A.González).
She debuted at Barcelona Rossini Opera Festival with Giulia of La Scala di Seta, and with Serpina of La serva padrona at Teatre de Ciutadella and Teatre Principal de Palma as well as Zerlina of Don Giovanni and Gianetta of l'Elisir d'amore. During the current season she will be Resident Artist of Life Victoria Lied Festival (2022),  also collaborating with Oxford Lieder Festival. Her next opera engagements will be La Musica at Monteverdi's Orfeo ed Euridice at Teatre Principal de Palma and La Virtù at Incoronazzione di Poppea at Gran Teatre del Liceu.