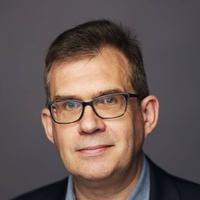 James Whitbourn graduated from Magdalen College, Oxford, before becoming a practitioner and researcher in the fields of composition, conducting and music production. He has directed the university's summer schools in choral singing and choral composition, offered through the Department for Continuing Education, since their inception.
A house composer with Oxford University Press since 2019, he has a substantial catalogue of works, almost seventy of which are published by Chester Music, to whom he was exclusively signed between 2001 and 2018. His catalogue has a focus on choral writing, often in combination with instrumental or orchestral forces. On the concert stage, his works are frequently performed in North America and mainland Europe, especially his concert-length portrait of Anne Frank, Annelies (which also earned one of his four GRAMMY nominations), Luminosity and the early Son of God Mass, a work for saxophone and choir based on his original BBC orchestral scores.
He has an ongoing research interest in the music of Egypt, having scored and recorded several Egyptian songs for orchestra and voice, including one commissioned for performance at the Luxor Temple in a concert with his regular collaborator, Egyptian soprano Fatma Said. He is the recipient of a TORCH Knowledge Exchange Fellowship (2019-2021) in furtherance of this work.
From 1990 to 2001 he served as Editor of BBC Radio 3's weekly Choral Evensong series before beginning an association with the Royal Opera House for whom he has produced scores of recordings for television, DVD and cinema, alongside many audio discs. These roles, together with involvement in similar audio and audio-visual recording projects based within other European opera houses and at other significant venues, have formed the basis of much of his teaching on performance in the context of recording.
James is Senior Research Fellowship at St Stephen's House, where he oversees the college's summer music education programme, and Director of Music at St Edmund Hall.
Updated: 21/05/2023