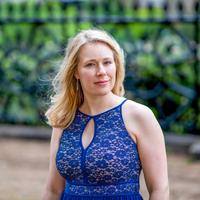 The award-winning Welsh collaborative pianist and conductor Jocelyn Freeman is lauded for her artistry, innovation, and powers of communication. Recently endorsed with a prestigious Associateship from the Royal Academy of Music, she is an advocate for diversity in a range of artistic endeavours and a skilled communicator on the concert platform, and in broadcasting, industry and lifestyle publications and events. Founder and Artistic Director of SongEasel, she has curated extensive concert and recording projects to wide critical acclaim and values her role as a mentor with early-career musicians.
Jocelyn's engagements have taken her to four continents including broadcasts in the UK and Germany; performances in the Wigmore Hall, the Royal Albert Hall, St Martin-in-the-Fields, Three Choirs Festival, the Global Concert Hall (IDAGIO) and many return visits to festivals and series in the UK. Collaborative highlights include recitals with Jamal Aliyev, Fleur Barron, Florian Boesch, Francesca Chiejina, James Gilchrist, Stuart Jackson, Stephan Loges, Mark Padmore, Gemma Summerfield, Bryn Terfel, Ailish Tynan and Julien Van Mellaerts; and as a conductor with Ashtead Choral Society, the British Sinfonietta and Lewisham Choral Society. She is Associate Choral Leader at St Martin-in-the-Fields.
A prize-winning graduate of the Royal Academy of Music, Jocelyn's repertoire champions standard song and concerto repertoire alongside lesser-known and contemporary composers. Her discography comprises releases with Kissan Records, Ty Cerdd, Orchid Classics and Rubicon Classics, with future plans to release with Signum Records. Awards include the International Marlow Concerto Competition, the Internationalen Wettbewerb für Liedkunst and the Viola Tunnard Award at Britten Pears Arts.
Updated: 23/9/23