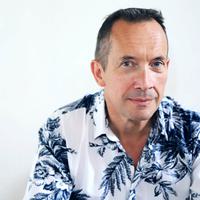 Jonathan Dove's music has filled opera houses with delighted audiences of all ages on five continents. Few, if any, contemporary composers have so successfully or consistently explored the potential of opera to communicate, to create wonder and to enrich people's lives.
 
Born in 1959 to architect parents, Dove's early musical experience came from playing the piano, organ and viola. Later he studied composition with Robin Holloway at Cambridge and, after graduation, worked as a freelance accompanist, repetiteur, animateur and arranger. His early professional experience gave him a deep understanding of singers and the complex mechanics of the opera house. Opera and the voice have been the central priorities in Dove's output throughout his subsequent career.
 
Starting with his breakthrough opera Flight, commissioned by Glyndebourne in 1998, Dove has gone on to write almost thirty operatic works. Flight, a rare example of a successful modern comic opera, has been produced and broadcast many times, in Europe, the USA and Australia.
 
Dove's innate understanding of the individual voice is exemplified in his large and varied choral and song output, and his confident optimism has made him the natural choice as the composer for big occasions. In 2010 A Song of Joys for chorus and orchestra opened the festivities at the Last Night of the Proms, and in 2016 an expanded version of Our Revels Now Are Ended premiered at the same occasion.
 
Throughout his career Dove has made a serious commitment to community development through innovative musical projects. Tobias and the Angel, a 75-minute opera written in 1999, brings together children, community choirs, and professional singers and musicians in a vivid and moving retelling of the Book of Tobit. His 2012 opera Life is a Dream, written for Birmingham Opera Company, was performed by professionals and community choruses in a disused Birmingham warehouse, and a church opera involving community singers The Walk from The Garden was premiered at Salisbury Cathedral as part of the 2012 Salisbury International Arts Festival.
 
2015 brought the World Premiere of The Monster in the Maze, a community opera commissioned by the London Symphony Orchestra, Berliner Philharmoniker and Festival d'Aix-en-Provence, performed under the baton of Sir Simon Rattle in three separate translations and productions. The Monster in the Maze has since been performed around the world, translated further into Taiwanese/Chinese, Portuguese, Swedish and Catalan, and received a BASCA British Composer Award in 2016's 'Amateur and Young Performers' category.

Jonathan Dove was made a Commander of the British Empire (CBE) in the Queen's 2019 Birthday Honours for services to music.