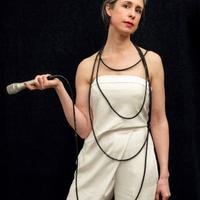 Soprano Juliet Fraser has a repertoire dominated by the very old and the very new. Specialising in the gnarly edges of contemporary classical music, Juliet is an active commissioner of new repertoire and has worked particularly closely with composers Pascale Criton, Michael Finnissy, Bernhard Lang, Cassandra Miller and Rebecca Saunders. Recent festival highlights include Aldeburgh Festival, Huddersfield Contemporary Music Festival, ManiFeste (Paris), Milano Musica, Musikfest Berlin, November Music and TIME:SPANS (NYC).

She regularly performs as a guest soloist with ensembles such as Musikfabrik, Klangforum Wien, Ensemble Modern, Plus-Minus and Talea, with Bozzini and Sonar string quartets, and as a duo with pianist Mark Knoop. Much of her commissioning focuses on creating a body of new work for voice and tape/electronics or for voice and piano. She has recently commissioned pieces from Lara Agar, Laurence Crane, Pascale Criton and Nwando Ebizie. Juliet is also known for breathing new life into existing repertoire such as Babbitt's Philomel, Vivier's Bouchara, Feldman's Three Voices and Grisey's Quatre chants pour franchir le seuil. 

In 2015 she released her debut disc, Feldman's Three Voices (on Hat Hut); she has since released recordings of Andrew Hamilton's To the People (NMC), Bernhard Lang's The Cold Trip, part 2 (Kairos), Michael Finnissy's Andersen-Liederkreis (Hat Hut), a binaural capturing of Babbitt's Philomel (all that dust) and portrait discs of Cassandra Miller (all that dust) and Frank Denyer (Another Timbre). Her latest disc, 'spilled out from tangles' (HCR), features works written for her by Lisa Illean, Sivan Eldar, Nomi Epstein and Lawrence Dunn. 

Juliet is a core member of EXAUDI vocal ensemble, which she co-founded with composer/conductor James Weeks in 2002. With EXAUDI she performs a broad repertoire, from ars subtilior and Renaissance madrigals to the most complex contemporary scores. Her discography includes acclaimed recordings of Renaissance polyphony by Lassus, Vitoria and Byrd with Collegium Vocale Gent (directed by Philippe Herreweghe), Bach cantatas with Gli Angeli Genève and, most recently, the late madrigals of Carlo Gesualdo with EXAUDI.

Alongside her work on stage, Juliet enjoys writing words about being a performing artist. Recent essays have been commissioned by Britten Pears Arts, MaerzMusik – Festival for Time Issues and the Fragility of Sounds lecture series. She has delivered masterclasses or short courses on contemporary vocal repertoire or collaborative composition at Royaumont Foundation, Britten Pears Young Artists' Programme, Dartington Music Summer School, Southampton University and Leeds College of Music. She is also in increasing demand as a panellist or presenter: she has been interviewed for podcasts hosted by sound festival, International Society of Musicians, From The Red House, Westdeutscher Rundfunk and Neue Musikzeitung, and has served on juries for The Arts Foundation, NCH/Sounding the Feminists, the Ivors Composer Awards and Royal Philharmonic Society. 

Juliet is the founder and artistic director of the eavesdropping series and symposium in London, and co-director with Mark Knoop and Newton Armstrong of all that dust, a little independent label for new music.