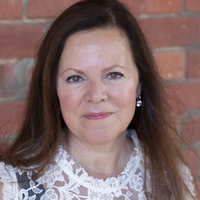 Kathryn Stott is internationally recognised as one of Britain's most versatile and imaginative musicians and among today's most engaging pianists. As well as appearing on major international concert platforms in recitals as a soloist, she is in demand for a wide variety of chamber music alliances, playing with some of the world's leading instrumentalists. Kathryn has also directed several distinctive concert series and festivals and has developed an extensive and exceptionally varied catalogue of recordings.

Born in Lancashire, she studied at the Yehudi Menuhin School and the Royal College of Music and was a prize-winner at the Leeds International Piano Competition 1978. Her teachers included Nadia Boulanger, Vlado Perlemuter and Kendall Taylor. In addition to her busy career as a performer, she is a professor at the Royal Northern College of Music in Manchester and believes passionately in nurturing young musicians to reach their potential in the creative world.

Kathryn has been performing and recording with Yo-Yo Ma for over 30 years and together they regularly tour Europe, the USA, South America and the Far East. In 2020, she curated their album 'Songs of Comfort and Hope' as a musical response to the impact of the pandemic. She has developed shared musical interests with an amazing array of performers and has always enjoyed collaborations with other musicians. She is a remarkable exponent of Tango and other Latin dance music, reflected in her collaboration South American musicians on the Grammy Award-winning Sony CD 'Soul of the Tango' and its successor 'Obrigado Brazil'. In the recording studio she has created a large and eclectic body of work including concertos and solo repertoire; of particular note is her recording for Hyperion of the complete solo works by Fauré and the complete Kabalevsky Concertos with the BBC Philharmonic for Chandos. 

With a wide-ranging repertoire, Kathryn has maintained a keen interest in contemporary music and has had many works written especially for her. In particular, her close musical relationship with the composer Graham Fitkin has led to 7 World premieres. Her output for the BBC over the years has been vast, performing not only in solo recital but also with all the BBC orchestras including 10 'Proms' at the Albert Hall. Her chamber music partners have included Christian Poltéra, Karen Gomyo, Janine Jansen, Yura Lee, Lars Anders Tomter, Henning Kraggerud, Trul Mørk, Tine Thing Helseth, Alexander Sitkovetsky, Maxim Rysanov to name but a few. 

Kathryn Stott has been the artistic vision behind several major festivals and concert series. 'Piano 2000' and 'Piano 2003' ( Bridgewater Hall, Manchester) established her reputation as an astute programmer; and following the earlier 'Fauré and the French Connection' she was appointed Chevalier dans l'Ordre des Arts et Lettres by the French Government. From 2009 – 2014 she was Artistic Director of the Manchester Chamber Concerts Society and was Guest Artistic Director of Incontri in Terra di Siena in 2010 and 2011. Kathryn has curated two concert series for Leeds International Concerts and the Royal Liverpool Philharmonic. From 2018-2021, Kathryn relished her role as Artistic Director of the Australian Chamber Music Festival which involved programming over 100 works each festival, instigating commissions and bringing together 45 musicians from Australia and the international community.

In 2008 Kathryn celebrated her 50th birthday with 25 musician friends raising £30k for HIV research and Nordoff-Robbins Music Therapy. Besides her performing commitments, Kathryn has also been on the Board of the Hallé Orchestra, a position she held for 7 years. Kathy Stott has a daughter, Lucy, and lives in Manchester. A keen walker, she enjoys being out in the countryside and spending time with her working cocker spaniel, Archie.