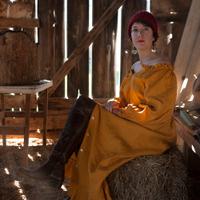 Kelley Swain is a poet, novelist, and critic, working at the crossroads of science and art. Originally from Rhode Island, she lived in London for a decade before moving to rural Oxfordshire. She holds an MSc in Medical Humanities from King's College London, writing and teaching in the subject, and has worked for Imperial College London, Duke University, and the University of Reading, leading courses, seminars, and workshops. She is a regular contributor to The Lancet medical journals, specialising in reviews of literature, theatre, exhibitions and music on medical topics. 
In 2016, Swain was one of the first three poets-in-residence at the Oxford University Museum of Natural History, spending the "Visions of Nature" year writing poems inspired by the Museum's collections and research. Her work comprises a large part of the anthology Guests of Time. Her first collection of poetry, Darwin's Microscope, was published in 2009, and is enjoying a 10thanniversary edition in 2019, along with the debut of the song cycle Endless Forms Most Beautiful, which grew from a collaboration between Swain, soprano Carola Darwin, and composer Cheryl Frances-Hoad, drawing on poems from Darwin's Microscope, and evolving to incorporate poems from Guests of Time. 
Swain's other books of poetry include the verse drama Opera di Cera and the collection Atlantic. Swain is author of an historical novel, Double the Stars, and her memoir The Naked Muse was hailed by the Times Literary Supplement as "an insightful, lyrical memoir which sheds light on the role of nude models depicted by artists throughout the centuries, illuminating both their immortality and invisibility". Along with her journalism, Swain is working on a second novel, and continuing to collaborate on Medical Humanities projects. She is also developing new poetry, imaginatively giving voice to silenced female specimens from the history of medicine.