Marie-Laure Garnier
Soprano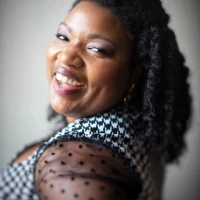 'Lyrical Artist Revelation of the Year' of the Victoires de la musique classique (The Classical Music Victories) in 2021, the soprano Marie-Laure Garnier began her artistic journey in French Guiana and then at the Regional conservator of Paris. In 2009, she joined the lyrical singing class of Malcolm Walker at the national superior conservatory for Music of Paris. After a brilliant vocal prize, she obtained an Artist-Performer Diploma as well as a Master's degree in chamber music.
Marie-Laure Garnier - nominated for the 'Adami Talents' Classical Revelation' in 2013 – won several competitions, including the International piano-voice Nadia and Lili Boulanger competition in 2017, with the prize for French Melody along with Célia Oneto Bensaid. She also won the first edition of the prestigious vocal competition of the French Overseas Departments Voices (2019), the first prize of the Orsay-Royaumont Academy and the International Lyrical Art Festival of Aix-en-Provence.
This very up and coming artist performs in concerts in prestigious national and international venues. She also performs in operas in 'larger than life' roles. Marie-Laure Garnier also is a committed artist, with a sunny and warm disposition. Eager to share her passion for singing, she created The Sharing Singers, a gospel choir she directed for 10 years and with which she gave many charity concerts. In addition, she hosts cultural mediation workshops in schools.
As for recordings, we can discover the soprano with Le Promenoir des amants (Académie Orsay-Royaumont collection) along with her preferred partner Célia Oneto Bensaid. Marie-Laure Garnier also recorded Les Chants de l'âme by Olivier Greif (under the B.Records label) where her vocal qualities received widely enthusiastic reviews - earning her a « Choc Classica » in 2020.