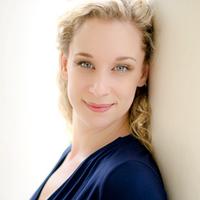 Martha Jones studied at the Royal College of Music International Opera School and was awarded the Susan Chilcott Scholarship by the Royal Philharmonic Society during her time there. She has participated in Young Artist programs for the Ravinia Festival, Chicago, at Carnegie Hall, New York and for the Britten Pears Foundation. 
Martha Jones' recent engagements include OPERA HIGHLIGHTS (Scottish Opera) HERMIA A Midsummer Night's Dream (Nevill Holt/Britten Sinfonia), ANNINA La Traviata, NEFERNEFERUATEN Akhnaten (English National Opera), FANNY PRICE Mansfield Park (The Grange Festival), MELANTO/AMORE Ulysses' Homecoming (English Touring Opera), and 2nd LADY The Magic Flute (Mid Wales Opera).
​
Other recent engagements include DORABELLA Così fan tutte (West Green House Opera, Oxford Philomusica), LISETTA Il mondo della luna (Festival de Sédières), DAUGHTER Akhnaten (Vlaamse Opera), LISETTA Il mondo della luna, NANCY Albert Herring, OLGA Eugene Onegin (English Touring Opera), COUNTESS CEPRANO Rigoletto (Opéra-Théâtre Limoges), GOFFREDO Rinaldo (Longborough Festival), OLGA Eugene Onegin (Southbank Sinfonia), 2nd WITCH/LADY IN WAITING Macbeth  (Scottish Opera). 
In concert she sang Mahler's Das Lied von der Erde with the London Mahler Orchestra, Mahler's Rückert Lieder with New English Ballet Theatre, Mahler's Lieder Eines Fahrenden Gesellen with the RCM Philharmonia, Michael Haydn and Mozart Requiems (Palace of Versailles), BESSIE in Weill's Mahagonny Songspiel (Kings Place) and selections from Henze's Stimmen (Queen Elizabeth Hall). Recordings include Schubert Romanze (BBC Philharmonic, conductor Paul Daniel).