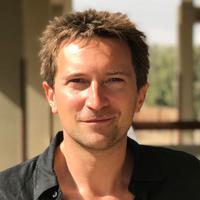 Michael is a Professor in Classics and Ancient History at the University of Warwick.
His research and teaching focuses on aspects of ancient Greek and Roman society, as well as ancient Global History and the early development of the Silk Roads. He has published 2 books with Cambridge University Press and 1 with Princeton University Press, alongside a number of academic articles in journals and edited volumes (in 2017-8 he was also a Leverhulme Research Fellow). He is a National Teaching Fellow (the UK's most prestigious award for teaching in Higher Education); Principal Fellow of the Higher Education Academy; winner of the Warwick Award for Teaching Excellence and Foundation Fellow of the Warwick Higher Education Academy. In 2015, Michael was also made an honorary Citizenship of Delphi, Greece – Επίτιμος Δημότης Δελφών – in recognition of his work related to the sanctuary of Delphi; and in 2019 he was elected a Fellow of the Royal Historical Society. This summer, he also takes us a role as co-lead of Warwick University's Global Research Priority Connecting Cultures centre.
Michael is also well known for his public engagement and outreach work as a speaker and broadcaster. He has published public facing history books with Icon and Penguin, with have now been translated into over 10 languages. He is President of the Lytham Saint Annes Classical Association, the largest branch in the UK, and is a Trustee and Director of the charity Classics for All (click here to read Michael's blog about how Classics has something for everyone). He has written and presented a range of TV and Radio programmes for National Geographic, History Channel, Nova, BBC & ITV including Delphi: bellybutton of the ancient world (BBC4); Guilty Pleasures: luxury in the ancient and medieval worlds (BBC4); Jesus: rise to power (Nat Geo); Ancient Discoveries (History Channel); Who were the Greeks? (BBC2); The Mystery of the X Tombs (BBC2/Nova); The Greatest Show on Earth (BBC4, in conjunction with the Open University); Roman Britain from the Air (ITV); Rome's Invisible City (BBC1), Invisible Cities (BBC1); Sicily: Wonder of the Mediterranean (BBC2) and Ancient Invisible Cities (BBC2). He has also presented a radio series for BBC Radio 4, 'Spin the Globe', written for national and international newspapers and magazines, lectured to schools and groups in the UK and Europe, and has taught in the UK, Europe, US and Brazil. In 2019, he was re-created as a Lego figure in honour of his contribution to Classics (click here to read about this in Michael's blog).