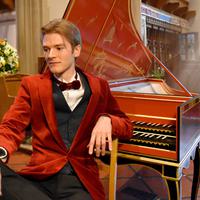 Nathaniel Mander is one of the most exciting early keyboard players to emerge on the scene in recent years. Known for his expressive and virtuosic performances, he pursues an international career performing as harpsichordist and fortepianist.
At a young age Nathaniel was entranced by the unique sound of the harpsichord and was inspired to take up the instrument. He began his education with Richard Lester in Cirencester, where he also gave his first recitals. In 2007 Nathaniel moved to London to train at the Royal Academy of Music with Carole Cerasi, and later he took lessons in Paris and Italy with Elisabeth Joyé, Skip Sempe and Pierre Hantai. Along with Carole, who deeply influenced his sound and approach to the instrument, these remain his most important musical influences.
After graduating with first class honours, Nathaniel embarked on a performing career that has taken him to major venues and festivals worldwide. These include the Wigmore Hall, King's Place, the Purcell Room, St.John's Smith Square, the Royal Festival Hall, Hampton Court Palace, the Handel House Museum, Fenton House, Finchcocks Museum, the Cobbe Collection of Early Keyboards at Hatchlands, the Russell Collection in Edinburgh, St. Martin in the Fields, the International Handel Festival in Göttingen, the London Handel Festival, Spitalfields Winter Festival, Raynham Hall, Restoration House, the Bach Steinitz festival, the London Festival of Baroque Music, the Queen's Gallery at Buckingham Palace, the Stadspodia in Leiden, The Kennedy Center in Washington, and Klosters Winter Festival, and he has recently performed at Yale University, CT, USA, with a recital exploring the influence of Flamenco in the music of Domenico Scarlatti. 
He is also a prizewinner of some significant awards, including: first prize at the 2010 Early Keyboard Ensemble Competition at Fenton House, first prize at the 10thBroadwood Harpsichord Competition, second prize at the Gianni Gambi Harpsichord competition in Pesaro (Italy), the accompanist's prize for the John Kerr Award at Finchcocks, and the Harold Samuel Bach Solo Keyboard Prize. He was awarded the RAM Early Music Prize four years consecutively during his studies there. 
Nathaniel is devoted to authentic harpsichord touch and artistic creativity and is particularly noted as an interpreter of Mozart and the 18th century French harpsichordists. His debut CD, The 18th century French salon, was highly praised at its release in 2015. He has recently filmed a series of music videos to introduce the harpsichord to a wider audience, in collaboration with award-winning director, David Percy. 
A respected teacher, Nathaniel held the Linda Hill Junior Fellowship at the Royal College of Music for two years running. He gives masterclasses throughout the UK and is passionate about inspiring the next generation.