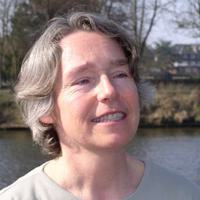 Nicola LeFanu was born in England in 1947, the daughter of Irish parents: her father William LeFanu was from an Irish literary family, and her mother was the composer Elizabeth Maconchy. LeFanu studied at Oxford, RCM and, as a Harkness Fellow, at Harvard. She has Honorary Doctorates from the Universities of Durham, Aberdeen, and Open University, is an Honorary Fellow of St Hilda's College Oxford, and is FRCM and FTCL.

She has composed around one hundred works which have been played and broadcast all over the world; her music is published by Novello and by Peters Edition Ltd. She has been commissioned by the BBC, by festivals in UK and beyond, and by leading orchestras, ensembles and soloists. Many works are available on CD, including music for strings (Naxos), Horn Concerto (NMC) and Saxophone Concerto (NEOS).

She has a particular affinity for vocal music and has composed eight operas: Dawnpath (New Opera Company, London, 1977), The Story of Mary O'Neill, a radio opera, libretto Sally McInerney, (BBC, 1987), The Green Children, a children's opera, libretto Kevin Crossley-Holland, (Kings Lynn Festival, 1990), Blood Wedding, libretto Deborah Levy (WPT, London 1992), The Wildman, libretto Crossley-Holland, (Aldeburgh Festival, 1995), Light Passing, libretto John Edmonds, (BBC/NCEM, York, 2004), Dream Hunter, libretto John Fuller (Lontano, Wales 2011, London 2012) and Tokaido Road, a Journey after Hiroshige, libretto Nancy Gaffield, (Okeanos, Cheltenham Festival, July 2014.)

She is active in many aspects of the musical profession, as composer, teacher, director and as a member of various public boards and new music organisations. From 1994–2008 she was Professor of Music at the University of York, where many gifted composers came to study with her. Previously she taught composition at Kings' College London; in the 1970s, she directed Morley College Music Theatre.

In April 2017 she celebrated her seventieth birthday, and was BBC Radio 3 'Composer of the Week'. 2017 also saw premieres of five new works, including The Crimson Bird (Commissioned by the RPS for BBCSO with Rachel Nicholls, soprano). Her cantata St Hilda of Whitby, to a text by Wendy Cope, was premiered in Oxford in February 2018. Recent music includes pieces for solo violin, solo piano, two choral works and The Swan for baritone and piano or chamber ensemble.

In 2020 a CD with four of her major orchestral pieces was released by NMC, supported by a grant from the PRSF. It features the RTE NSO and the BBCSO.

In 2021 a new quintet for strings will be premiered by the Sacconi quartet and a work for baritone and chamber orchestra will be premiered by the Welsh Chamber Orchestra.
Click here to visit Nicola LeFanu's website.