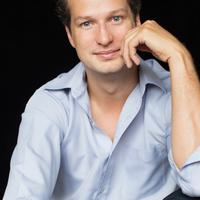 Baritone Nikolay Borchev began his career at a very young age as a principal at the Bavarian State Opera. After several seasons in Munich, he spent two seasons as a member of the Vienna State Opera. With both companies he sang numerous main roles of his Fach including 'Papageno'/ "Die Zauberflöte", 'Guglielmo'/"Così fan tutte" and 'Figaro'/"Il Barbiere di Siviglia". An exceptional musician, he developed an extensive repertoire within just a few years and, thanks to his vocal and artistic qualities as well as his compelling stage presence, has established himself as a regular guest of the world's most important operatic, concert and recital venues.
Nikolay Borchev has appeared at London's Royal Opera House Covent Garden as 'Guglielmo' (Sir Colin Davis) and as 'Harlekin'/"Ariadne auf Naxos"; at Carnegie Hall New York as 'Apollo'/"Apollo e Dafne" (Jonathan Cohen); at the Opéra Comique Paris as 'Aeneas'/"Dido and Aeneas" (William Christie); at the Hamburg State Opera as 'Figaro'; at the State Opera Berlin as 'Eginhard' in Telemann's "Emma and Eginhard" (René Jacobs); at the Frankfurt Oper as 'Dandini'/"La Cenerentola" and 'Spielmann'/"Die Königskinder" (Sebastian Weigle with CD production); at the Deutsche Oper Berlin as 'Figaro'; at Brussel's Théâtre de la Monnaie in the world première of Benoît Mernier's "Frühlingserwachen", as 'Ulisse'/"Il ritorno d'Ulisse in Patria", as 'Papageno', as Dandini' as well as as 'Passaglio' in a new production of Gassmnn's "L'opera seria" (René Jacobs); in the title role of Monteverdi's Orfeo, 'Mercurio'/"La Calisto", 'Jeletzki'/" Pikovaya Dama" and 'Lurcanio'/" Ariodante" at Theater Basel; in the title role of "Yevgenij Onegin" at the State Theatre Stuttgart; as 'Conte'/"Le nozze di Figaro" and 'posa'/"Don Carlo" at Theater Sankt Gallen; at Düsseldorf's Deutsche Oper am Rhein as 'Orfeo' and 'Guglielmo'; at Cologne Opera as 'Marcello'/"La Bohème", Kris Kelvin' in Glanert's "Solaris", 'Fieramosca' in Berlioz's "Benvenuto Cellini" and as 'Stolzius'/"Die Soldaten (Francois-Xavier Roth); as 'Marcello' at the Opera Leipzig and in Riga, as 'Don Giovanni' at the Opéra du Rhin Strasbourg; in Spain's Teatro Real Madrid as 'Mercurio'/"La Calisto", at the Ópera de Bilbao as 'Donald'/" Billy Budd", and at the Palau de les Arts Valencia as 'Harlekin'; at the opera houses of Lille and Dijon as 'Nardo'/"La finta giardiniera" (Emanuelle Haïm); at Vienna's Theater an der Wien in Ullmann's "Der Kaiser von Atlantis"; as 'Malatesta'/"Don Pasquale" at the Glyndebourne Festival (conducted by Enrique Mazzola and staged by Mariame Clément which was commercially released on DVD); as well as in the festivals of Weimar in Hanns Eisler's "Deutsche Sinfonie"; at Schwetzingen SWR Festival as 'Pluto' in Josef Martin Kraus' "Proserpina"; at the Rheingau Music Festival; at the Salzburg Festival in Händel's "Das Alexanderfest" (René Jacobs); the Ruhrtriennale; and at the Baden-Baden Festival as 'Harlekin' (Christian Thielemann; released on DVD) and as 'Albert'/"Werther" (Bertrand de Billy). Further credits include, amongst others, 'Schneidebart'/"The silent woman", 'Prosdocimo'/"Il Turco in Italia" and 'Der Liebende' at the world-premiere of Nikolaus Brass' "Die Vorübergehenden" at the Bavarian State Opera (Paolo Arrivabeni); the role of 'Morald' in Wagner's "Die Feen" at the Opera Leipzig; as 'Dandini'/"La Cenerentola" at the Opéra de Lyon (Stefano Montanaro); and the role of 'Danilo' in Léhar's "Merry Widow" at the Staatsoperette Dresden.
Nikolay Borchev is also a highly sought-after concert singer and recitalist. He has been featured with the Bavarian Radio Symphony Orchestra, Munich, in "Das Buch mit sieben Siegeln"; the Balthasar-Neumann Ensemble as 'Orfeo' (Thomas Hengelbrock); the Freiburger Barockorchester in "Don Giovanni "(commercially released on CD and DVD, René Jacobs); the Akademie für Alte Musik Berlin; the Capella Augustina in Haydn's "Il ritorno di Tobia"; the Museumsorchester Frankfurt in "Carmina Burana" and "Das Buch mit sieben Siegeln"; the NPS Amsterdam in "Orlando Paladino"; with the London Mozart Players; the Chamber Orchestra of Munich; the Radio Symphony Orchestra of the Saarland in Saint-Saëns "Oratorio de Noël"; the RSO Berlin and as Apollo in Händel's "Apollo e Dafne" with the Philharmonic State Orchestra Halle; the Robert-Schumann-Philharmonie (Frank Beermann); with the Hamburg Symphony Orchestra (Jeffrey Tate); with the Tshaikovsky Concert Hall in Moscow, with the Dresdner Musikfestspiele, with the Warsaw Philharmonic, with the Chamber Music Society of Lincoln Center in New York, with the Munich Bachchor in Bach's "Matthäus-Passion" (Hans-Jörg Albrecht) and with the Deutsche Symphonie Orchester in a concert version Bohuslav Martinů's opera "Ariane", in the role of 'Thesée' (Martyn Brabbins), amongst others. 
His participation in a semi-staged, crossover production of Rossini's "La Petite Messe Solennelle" with the dance company Nico and the Navigator, with performances at the Weimar Festival, in Berlin, Dijon as well as in Paris has been of special interest and was highly acclaimed. 
Further highlights included his successful role-debut as 'Pélleas'/"Pélleas et Mélisande" with the Niederösterreichische Tonkünstler under the baton of Jun Märkl at Vienna's Musikverein". He recently gave his debut at Concertgebouw Amsterdam in "Das Paradies und die Peri" with the Radio Filharmonisch Orkest, conducted by Markus Stenz and in Rossini's "La petite sollennele" under Leonardo Garcia Alarcón.
His recital repertoire is extensive, and encompasses cycles by Beethoven, Schubert, Schumann, Mahler and Wolf, as well as songs by Shostakovich, Tchaikovsky and Grieg. He sang Schubert's "Die Winterreise" (commercially released on CD) at the Mecklenburg-Vorpommern Festival, where has also been the object of an "Artist's Portrait" with numerous concerts, recitals and gala performances. With Wolfram Rieger he presented a recital at the Palais des Beaux Arts in Brussels. He is a regular guest of Vilabertran's Schubertiade, and has given recitals at Dortmund's Konzerthaus, at the festival of Weimar and the Brühler Schlosskonzerte. Additional recitals have taken him regularly to the Music at Menlo Festival in Atherton, California; to Spain's Gran Canaria; and as far as Taiwan. 
Current and future projects include "Dido & Aeneas" with Sasha Waltz at the Staatsoper Berlin and in Shanghai, his role-debut as 'Fritz'/"Die tote Stadt" at La Monnaie Brussels, his return to the Opéra de Lyon as 'Conte', to the Munich State Opera as 'Barbier'/"The silent woman" and to the Semperoper Dresden as 'olivier'/"Capriccio" (Christian Thielemann). He will return to the Chamber Music Society of New York as well as to the Bachakademie Stuttgart, will have a recital at Oxford Lieder Festival as well as at the Schubert Club in St. Paul, Minnesota.
Nikolay Borchev was born in Pinsk, Belarus, and started his musical education at age seven years with piano, flute and organ. At sixteen he began studying singing at Moscow's Tchaikovsky Conservatory with Pavel Lisitisan and Maria Ariya and later continued his studies in Berlin at the Hochschule für Musik "Hanns Eisler" under the guidance of Heinz Reeh, Júlia Várady and Wolfram Rieger. He was a prize winner at numerous international vocal competitions.