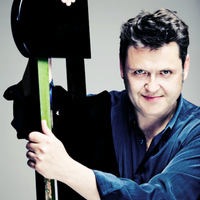 Pianist Paul Rivinius, born in 1970, received his first piano lessons at the age of five. His teachers were first Gustaf Grosch in Munich, later Alexander Sellier, Walter Blankenheim and Nerine Barrett at the Musikhochschule in Saarbrücken. After graduating from high school he also studied horn with Marie-Luise Neunecker at the Frankfurt Musikhochschule and continued his piano studies with Raymund Havenith. In 1994 he was accepted into Gerhard Oppitz's master class at the Musikhochschule in Munich, which he completed with honours in 1998. Paul Rivinius was for a long time member of the Bundesjugendorchester and the Gustav Mahler Youth Orchestra.
As a chamber musician, he won several prizes with the Clemente Trio, founded in 1986, for example at the renowned ARD Music Competition in Munich in 1998 and subsequently performed as the "Rising Star" ensemble in the world's ten most important concert halls, including Carnegie Hall in New York and Wigmore Hall in London.
Paul Rivinius also plays in the Rivinius Piano Quartet together with his brothers Benjamin, Gustav and Siegfried. Since 2004 he has also been pianist of the Mozart Piano Quartet, which has gained international reputation through extensive tours in North and South America and Asia. In 2018 the Mozart Piano Quartet received the "Opus Klassik" for the recording of Georg Hendrik Witte's Piano Quartet for MDG Dabringhaus & Grimm. Paul Rivinius was part of numerous radio and CD productions with cellists Julian Steckel, Johannes Moser and with the Swedish soprano Camilla Tilling to name a few.
Paul Rivinius taught for many years as professor of chamber music at the "Hanns Eisler" Academy of Music in Berlin and lives now in Munich.