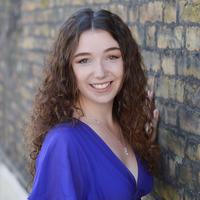 British Soprano Rachel Ridout studies with Mary Nelson and James Baillieu. She holds a First-Class Honours degree from the Royal Academy of Music and was awarded the Van Smith Prize, 2021. This summer Rachel and her Duo partner Ilan Kurtser are the recipients for the Hester Dickson Duo Prize for Oxenfoord International and they look forward to performing at this years 'International Lied Festival Zeist' Masterclass in the Netherlands, October 2021.
As a passionate song singer, she has worked closely with Professors Richard Stokes, Michael Dussek, Joseph Middleton and Sholto Kynoch. Rachel recently gave the world premiere of Emma Ruth- Richards' song Red Anemones, written as one of the 200 Pieces project commissioned by the Royal Academy of Music for their bicentenary celebrations. Recent success includes placing Very Highly Commended in the Major Van Someren-Godfrey English Song Prize 2020 and Runner Up in The Charles Wood International Song Competition 2021.
Within RAM she has performed regularly for Academy Voices song recitals and the Accompanist @6 concert series. Rachel has also performed as a soloist in the Bach the European concert series, singing under Masaaki Suzuki, Trevor Pinnock, Iain Leddingham and Eamonn Dougan. Last Christmas Rachel sang her first Messiah as the Soprano Soloist conducted by Daniel Collins.  She has also sung in masterclasses to Graham Johnson, Malcom Martineau, Helmut Deutsch, and Justus Zeyen. Externally Rachel is a regular recitalist around the UK, and she has also performed at the Victoria International Arts Festival in Malta.
Recent opera roles include Norina from Donizetti's Don Pasquale in RAM Opera scenes, First Boy for the RAO production of Die Zauberflöte and Olympia from Offenbach's Les Contes d'Hoffman. Rachel has also performed the Title role in Purcell's Dido and Aeneas with Abingdon Music Society, Papagena for Upperhill Music Festival's production of Die Zauberflöte and First Lady for Cavatina Orchestra. In opera scenes Rachel has performed the roles of Mozart's Zerlina and Susanna.