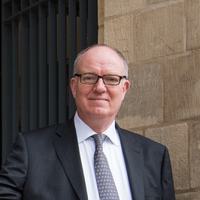 © John Cairns
Richard Ovenden is Bodley's Librarian. His previous roles include positions at the House of Lords Library, the National Library of Scotland, and the University of Edinburgh, where he was Director of Collections, responsible for integrating the Library, the University Museums and Art Gallery.
In 2003 he became Keeper of Special Collections and Western Manuscripts, followed by Associate Director, and latterly (from 2011) Deputy Librarian, at the Bodleian Libraries, University of Oxford. He was appointed to the Librarianship in 2014. At the Bodleian he is also Director of the Bodleian's Centre for the Study of the Book.
He is professionally active in the sphere of libraries, archives and information science, being a member of the Board of the Legal Deposit Libraries and the Board of Research Libraries UK, and Treasurer of the Consortium of European Research Libraries. He is currently President of the Digital Preservation Coalition. He is a Trustee of Photography Oxford, and serves on the Board of the Council of Library and Information Resources. He is a member of the Overseers Committee for Harvard University Library, the Academic Advisory Committee for the Deutsches Literatur Archiv, and the John Rylands Research Institute.
Richard is author of John Thomson (1837–1921): Photographer (1997), a major study of the Scottish photographer; co-author of A Radical's Books: The Library Catalogue of Samuel Jeake of Rye (1623−1690) (1999) (with Michael Hunter, Giles Mandelbrote and Nigel Smith); and author of Burning the Books: A History of Knowledge under Attack (2020), which was BBC Radio 4's Book of the Week, a Times Book of the Year, and shortlisted for the Wolfson History Prize. He writes on the history of libraries, the history of the book, and the history of photography.
He is a Fellow of the Royal Society of Arts, The Royal Historical Society and of the Society of Antiquaries. He was elected to the American Philosophical Society in 2015.
Updated: 20/05/2023