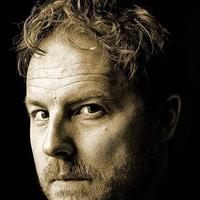 © Bruce Chatterton
Samuel Alexander Joseph West (born 19 June 1966) is an English actor, narrator, and theatre director. He has directed on stage and radio, and worked as an actor in theatre, film, television, and radio. He has appeared as reciter with orchestras and performed at the Last Night of the Proms in 2002. He has narrated several documentary series, including five for the BBC about the Second World War. He currently stars as Siegfried Farnon in the Channel 5 remake of the veterinary drama series All Creatures Great and Small.
Samuel Alexander Joseph West was born on 19 June 1966 in Hammersmith, London, the elder son of the actress Prunella Scales and the actor Timothy West, and the grandson of the actor Lockwood West. He was educated at Alleyn's School and Lady Margaret Hall, Oxford, where he studied English literature and was president of the Experimental Theatre Club. West originally intended to attend Webber Douglas Academy of Dramatic Art, but chose instead to focus on his career after he was cast as King Caspian in the BBC's 1989 series The Voyage of the Dawn Treader.
West made his London stage debut in February 1989 at the Orange Tree Theatre, playing Michael in Cocteau's Les Parents Terribles, of which critic John Thaxter wrote: "He invests the role with a warmth and validity that silences sniggers that could so easily greet a lesser performance of this difficult role, and he lets us share the tumbling emotions of a juvenile torn between romantic first love and filial duty." Since then, West has appeared frequently on stage; he played Valentine in the first production of Tom Stoppard's Arcadia at the National Theatre in 1993, and later spent two seasons with the Royal Shakespeare Company playing the title roles in Richard II and Hamlet, both directed by Steven Pimlott.
In 2002, West made his stage directorial debut with The Lady's Not for Burning at the Minerva Theatre, Chichester. He succeeded Michael Grandage as artistic director of Sheffield Theatres from 2005–2007. During his time as artistic director, West revived the controversial The Romans in Britain, and also directed As You Like It as part of the RSC's Complete Works Festival. West left Sheffield when the theatre closed for refurbishment in 2007, and made his West End directorial debut with the first major revival of Dealer's Choice following its transferral to the Trafalgar Studios. He also continued his acting career: in 2007 he appeared alongside Toby Stephens and Dervla Kirwan in Betrayal at the Donmar Warehouse.
In 2008, he played Harry in the Donmar revival of T. S. Eliot's Family Reunion, and in 2009 he starred as Jeffrey Skilling in Enron by Lucy Prebble. His 2008 production of Waste at the Almeida Theatre was chosen by The Times as one of its "Productions of the Decade". From November 2012 to January 2013, he appeared as Astrov in a production of Uncle Vanya at the Vaudeville Theatre. He played Ivanov and Trigorin in the Chichester Festival Theatre's Young Chekhov Season from September 2015, alongside Nina Sosanya, Anna Chancellor, and James McArdle.
West at the London Film Festival screening of Hyde Park on Hudson in 2012
West appeared in the film Reunion (1989) with Jason Robards and Christien Anholt as an aristocratic boy who befriends the son of a Jewish doctor in 1930's Germany. West played the lower-middle-class clerk Leonard Bast in the Merchant Ivory film adaptation of E. M. Forster's novel Howards End (1992), featuring Emma Thompson, Helena Bonham Carter, and Anthony Hopkins. For this role, he was nominated for best supporting actor at the 1993 BAFTA Film Awards. West appeared with Thompson again in the film Carrington (1995).
His film career has continued with roles in films such as Franco Zeffirelli's Jane Eyre, Notting Hill, Iris, Van Helsing and Darkest Hour. In 2004, he appeared in the year's highest rated mini-series on German television, Die Nibelungen, which was released in the United States in 2006 as Dark Kingdom: The Dragon King. In 2012, he played King George VI in Hyde Park on Hudson.
West has appeared in many long-running series: Midsomer Murders, Waking the Dead and Poirot, as well as one-off dramas. He played Anthony Blunt in Cambridge Spies, a BBC production about the four British spies, starring alongside Toby Stephens (Philby), Tom Hollander (Burgess) and Rupert Penry-Jones (Maclean). He reprised his role as Blunt in "Olding", the premiere episode of the third season of The Crown released in 2019.
In 2006, West took the lead role in a BBC production of Random Quest adapted from the short story by John Wyndham and the next year played Edward Heath in Margaret Thatcher – The Long Walk to Finchley, also for the BBC. In 2010 he played Peter Scabius in the televised adaptation of William Boyd's novel Any Human Heart, while in 2011 he starred as Zak Gist in the ITV series Eternal Law. In addition, he appeared in the BBC sitcom As Time Goes By, as Terry in the episode "We'll Always Have Paris" (1994).
He played Frank Edwards in the ITV drama Mr Selfridge, and Sir Walter Pole in the 2015 BBC adaptation of Jonathan Strange and Mr Norrell.
He stars in the Channel Five series (broadcast in September 2020) All Creatures Great and Small as Siegfried Farnon. A second six-episode series and Christmas special was broadcast in 2021, followed by a third season airing in late 2022.
West is regularly heard on radio as a reader or reciter and has performed in many radio dramas, including Otherkin by Laura Wade, Present Laughter by Noël Coward, Len Deighton's Bomber, Life and Fate by Vasily Grossman, Michael Frayn's Here, The Meaning of Zong by Giles Terera and The Homecoming as Lenny to Harold Pinter's Max. In 2011, he made his radio directing debut with a production of Money by Edward Bulwer-Lytton on BBC Radio 3.
Updated 20/05/2023