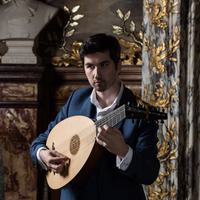 Born in Paris in 1988, Thomas Dunford discovered the lute at the age of 9 thanks to Claire Antonini, his first teacher. He completed his studies in 2006 at the Conservatoire Supérieur de Paris (CNR), where he was unanimously awarded first prize in the class of Charles-Edouard Fantin.
Thomas Dunford continued his studies at the Schola Cantorum in Basel with Hopkinson Smith, and participated in numerous master classes with lutenists such as Rolf Lislevand and Julian Bream, and in workshops with Eugène Ferré, Paul O'Dette, Pascale Boquet, Benjamin Perrot and Eduardo Eguez. He obtained his diploma in 2009.
From September 2003 to January 2005, Thomas made his debut playing the role of the lutenist in Shakespeare's Twelfth Night at the Comédie Française. Since then, Thomas has given recitals at Carnegie Hall and the Frick Collection in New York, Wigmore Hall in London, Washington Kennedy Center, Vancouver recital society, Cal Performances at Berkeley, Banff center, Palau de la Musica in Barcelona, Concertgebouw Bruges, Concertgebouw Amsterdam, Konzerthaus Vienna, Saintes, Utrecht, Maguelone, Froville, TAP Poitiers, WDR Cologne, Radio France Montpellier, Saffron Hall. He regularly appears as a soloist or in ensemble in the most prestigious European festivals such as Ambronay, Arques La Bataille, Bozar, La Chaise-Dieu, Nantes, Saintes, Utrecht, and others. He has also performed in Australia, Austria, Belgium, Brazil, Chile, China, Colombia, Czech Republic, Denmark, Estonia, England, Germany, Greece, Hungary, India, Israel, Iceland, Ireland, Italy, Japan, Latvia, Lebanon, Lithuania, Mexico, Netherlands, Norway, Poland, Romania, Russia, Slovakia, Scotland, Spain, Sweden, Switzerland and the United States.
His first solo CD 'Lachrimae' for the French label Alpha in 2012 unanimously acclaimed by the critics, was awarded the Caecilia Prize 2013, BBC magazine calling him the "Eric Clapton of the lute". His second CD 'Labirinto d'Amore' was awarded the "Choc" by Classica. His third CD of Bach suites for lute was awarded the "Editors choice" by Gramophone and a "Choc" by Classica.
His extensive discography includes music by John Dowland with Jeni Melia and Christopher Goodwin. Four recordings with La Capella Mediterranea: a CD of Barbara Strozzi, Falvetti's Il Diluvio Universale and Nabucco and a work by Zamponi; Handel's Samson with Millenium Orchestra, two CDs of works by Farina and Romero with the Clématis Ensemble, violin sonatas with Monica Hugget; two CDs with Julien Léonard : Forqueray and Dowland; Lachrimae with Musical Humors; Vivaldi with Nicola Benedetti; three CDs of Vivaldi with La Serenissima; three CDs with A 2 Violes Esgales : Bacilly, Ferrabosco and Marais; Praetorius with Cappricio Stravagante; four CDs of Zelenka, Fasch, bassoon arias and Handel with Marsyas; eleven recordings with Arcangelo including Guadani arias with countertenor Iestyn Davies, Handel arias with Chris Perves, soprano arias with Anna Prohaska, Monteverdi madrigals, Couperin's Leçons de ténèbres, Charpentier's Leçons de ténèbres, Couperin's Les Concerts Royaux, two recordings of Buxtehude's Triosonates and Handel's Brockes passion, Charpentier's Litanies and Magnificat; Four recordings with Pygmalion : Bach's Messes brêves, La messe en Si, Trauerode and Motets; Geoffroy with harpsichordist Aurélien Delage; Baroque and jazz arias with soprano Jody Pou; Dowland with countertenor Jean Michel Fumas; Renaissance composer Attaignant with Pierre Gallon; an English manuscript with La Sainte Folie Fantastique; a duet CD of Dowland with Iestyn Davies; 17th Italian cornet repertoire with La Fenice; four CDs with Les Arts Florissants : three CDs of Airs sérieux et à boire, Monteverdi's 7th book of Madrigals; Bach flute suites with Les Musiciens de Saint Julien, Purcell and Charpentier with Chantal Santon; Gesualdo's 6th book of Madrigals with Philippe Herreweghe, Rasi and Monteverdi with I Gemelli, 'Barricades' with Jean Rondeau and 'Mad Lover' with Théotime Langlois de Swarte…
Thomas Dunford is regularly invited to perform with Les Arts Florissants, Akadêmia, Amarillis, Les Ambassadeurs, Arcangelo, La Cappella Mediterranea, Capriccio Stravagante, Le Centre de Musique Baroque de Versailles, La Chapelle Rhénane, Clématis, Collegium Vocale Gent, Le Concert Spirituel, Le Concert d'Astrée, A 2 Violes Esgales, Dunedin Consort, and the English baroque soloists, The English Concert, l'Ensemble Baroque de Limoges, La Fenice, Les Folies Francaises, the Irish Baroque Orchestra, Marsyas, the Monteverdi Choir, Les Musiciens du Louvre, Les Musiciens du Paradis, Les Musiciens de Saint Julien, Les Ombres, Pierre Robert, Pygmalion, La Sainte Folie Fantastique, Scherzi Musicali, La Serenissima, Les Siècles, the Scottish Chamber Orchestra, La Symphonie du Marais…
Thomas Dunford is attracted to a wide variety of musical genres, including jazz, and has collaborated with Paul Agnew, Leonardo Garcia Alarcon, Nicolas Alstaedt, Cecilia Bartoli, Nicola Benedetti, Kristian Bezuidenhout, Keyvan Chemirani, William Christie, Jonathan Cohen, Christophe Coin, Iestyn Davies, Gérard Depardieu, Lea Desandre, Sabine Devieilhe, Joyce Didonato, Isabelle Faust, Bobby McFerrin, John Eliot Gardiner, Emmanuelle Haïm, Philippe Herreweghe, Lucie Horsch, Monica Hugget, Alexis Kosenko, Théotime Langlois de Swarte, Francois Lazarévitch, Anne-Sophie von Otter, Trevor Pinnock, Patricia Petibon, Sandrine Piau, Anna Prohaska, Hugo Reyne, Anna Reinhold, Jean Rondeau, Skip Sempé, Jordi Savall, Jean Tubéry, Doug Balliett. He has played in several duos with the harpsichordist Jean Rondeau, with the mezzo-soprano Lea Desandre or with the countertenor Iestyn Davies.
In 2018, at the age of 30, Thomas Dunford created his ensemble Jupiter where he invited extraordinary musicians and soloists he met during his many years of touring around the world. Their multi-award-winning debut recording of Vivaldi was released by Alpha in 2019. Their upcoming projects include a program around Handel with Iestyn Davies and Lea Desandre, a program around Monteverdi and 'Amazone', a French-Italian recital program with Lea Desandre, to be released in the fall of 2021 by Erato. Jupiter has already been programmed in the most important concert halls in Europe and the United States: Philharmonie de Paris, Philharmonie de Berlin, Auditorium Radio-France, ElbPhilharmonie Hamburg, Carnegie Hall in New York, Wigmore Hall in London, Easter Festival in Aix-en-Provence...
For the 2021 - 2022 season, Thomas Dunford will be on tour in the United States in March with Jupiter (Los Angeles, San Francisco, San Diego, Washington, Carnegie Hall in New York...). In October, he will be at the Elbphilharmonie in Hamburg, in December in Japan, at the Oji Hall in Tokyo, in May at the Palau in Barcelona. He will also be on tour with the flutist Lucie Horsch, and in June he will be at the Wigmore Hall for a duo with Jean Rondeau.