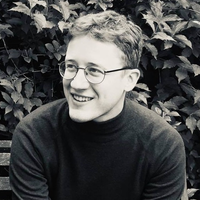 Thomas Eeckhout (b. 1992) started studying piano at the age of eight at the music academy in Gent with Rolande Spanoghe. At the age of eighteen, he started his studies with Levente Kende, Nikolaas Kende and Heidi Hendrickx at the Royal Conservatory of Antwerp, where he also took courses in pianoforte with Piet Kuijken and vocal accompaniment with Lucienne Van Deyck and Jozef De Beenhouwer.
In 2015, he accompanied the choir of the Royal Conservatory of Antwerp, performing Ein Deutsches Requiem by Johannes Brahms. In 2016, he graduated magna cum laude. Thomas has often worked with music theatre and opera companies such as Muziektheater Transparant, La Monnaie and Opera Ballet Vlaanderen and performed at festivals such as Operadagen Rotterdam, United Music of Brussels and Big Bang Festival.
In 2018 - 2019, he participated in a collaboration between La Monnaie and Les Karyatides for the creation of the musical theatre piece (Victor) Frankenstein, which premiered in La Monnaie and toured in Belgium and France. In October 2019, Lisa Willems and he were finalists in the Paola Salomon-Lindbergcompetition in Berlin.
In September 2020, he commenced postgraduate studies in piano accompaniment at the Guildhall School of Music and Drama, where he won the Piano Accompaniment Prize. His  teachers are Caroline Palmer and Bretton Brown. He has participated in masterclasses and projects led by Christianne Stotijn, Anne Sofie von Otter, Olaf Bär, Julius Drake and Iain Burnside. In October 2021, he made his debut at Oxford Lieder Festival, performing Thomas Adès's Five Eliot Landscapes with soprano Ellie Neate. In September 2022 he became a junior Fellow at Guildhall. Together with George Robarts he recently won the second prize in the John Kerr competition. This season, he will be performing song recitals at Oxford Lieder, La Monnaie and the Queen Elizabeth Chapel.