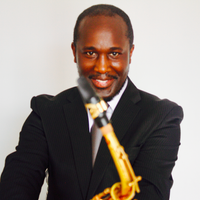 Tony Kofi is a British Jazz multi-instrumentalist born of Ghanaian parents, a  player of the Alto, Baritone, Soprano, Tenor saxophones and flute. Having 'cut his teeth' in the "Jazz Warriors" of the early 90's, award-winning saxophonist Tony Kofi has gone on to establish himself as a musician, teacher and composer of some authority. As well as performing and recording with Gary Crosby's "NuTroop"  and "Jazz Jamaica", Tony's playing has also been a feature of many bands and artists he has worked/recorded with include "US-3" The World Saxophone Quartet, Courtney Pine, Donald Byrd, Eddie Henderson, The David Murray Big Band, Sam Rivers Rivbe Big band, Andrew Hill Big Band, Abdullah Ibrahim, Macy Gray, Julian Joseph Big band, Harry Connick JR, Byron Wallen's Indigo, Jamaaladeen Tacuma's Coltrane Configurations and Ornette Coleman. 
His fluent and fiery hard-bop style makes him constantly in demand. He currently leads his own Tony Kofi Quartet, Tony Kofi Sphinx Trio, Future Passed Trio and is also the co-founder with Jonathan Gee of the Monk Liberation Front, a group that is dedicated to the music of Thelonious Monk. Tony's latest project sees him performing with Alex Webb's Café Society Swing, Arnie Somogyi's Jump Monk, Larry Bartley's JustUS Quartet, Adrian Reid Quartet, a double leaders project with Alan Barnes called Aggregation, Orphy Robinson's Bobby Hutcherson songbook project, Alina Bzhezhinska Quartet, Jo Harrop's Fever, Portrait of Cannonball (Music dedicated to Cannonball Adderley) Tony Kofi and the Organisation, a recent project which he co leads on the Baritone Saxophone. 
Tony Kofi was the winner of the BBC Jazz Awards 2005 -Album of the Year, as well as winner of Best Ensemble, Parliamentary Jazz Awards 2005 and BBC Jazz Awards 2008 – Best Instrumentalist. He was also a nominee for the Mobo Awards 2008 and won the Jack Petchey Award in 2015 as well as the Presto Music Award in 2020. In 2021 Tony was awarded an Honorary Professorship at Nottingham University and in 2022 he won Best Instrumentalist at the Parliamentary Jazz Awards.
Click here to visit Tony Kofi's website.