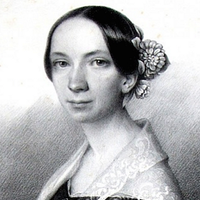 Emilie Mayer
1812 - 1883
Forgotten Voices
Emilie Mayer (1812 - 1883) was described as a 'rare phenomenon' in the Neue Berliner Zeitung, 1878, because her compositions were not only for piano. She studied with the song-composer Carl Loewe and the influential teacher Adolf Bernhard Marx, and her numerous orchestral and chamber works were highly regarded during her lifetime.
Mayer lived in Friedland as housekeeper to her widowed father until his death by suicide in 1840. After this traumatic event, she took the extraordinary decision to pursue her music studies in Stettin and Berlin aged nearly thirty. She toured widely with her music before settling first Stettin during the 1860s and then Berlin in 1875 until her death; the city was an important centre for her music, including her highly-regarded Faust Overture with its dramatic, unison opening.
Mayer was drawn to large-scale composition almost immediately, writing her first two symphonies between 1845 and 1847. Like many of her contemporaries, she also learned her craft by copying and analysing excerpts of music by predecessors like Mozart, Haydn, Beethoven, her contemporary Ferdinand Hiller and the opera composer Étienne-Nicolas Méhul. Loewe and Marx were not only thorough teachers, but, to their great credit, both used their influence to support performances of her music. Her well-crafted music was performed throughout Europe although her success was hampered by the high costs of performing orchestral works (one can compare the luxurious financial conditions under which Brahms's symphonies emerged). Franz Liszt offered to help by arranging a string quartet for piano, a typical way of popularising repertoire economically, but she declined.
Following her return to Stettin in 1862, Mayer turned her attention to chamber music, including violin and cello sonatas. Like many of her contemporaries, she mostly favoured classically-rooted forms although she grew ever more harmonically adventurous. In her mid-sixties, she returned to Berlin and enjoyed considerable success and many performances. Her last composition was the beautiful Notturno Op. 48 dedicated to the great violinist Joseph Joachim. Several contemporary encyclopaedias included an entry on her, but that trace was gradually erased by the mid-20th-century. Interest in her work revived in the 1980s; a number of recordings have emerged since 2000.
Mayer's song composition was doubtless learned from Loewe; her earliest settings were of Goethe, including a setting of 'Erlkönig'. She did not write many solo songs, possibly avoiding them because of their association with feminine, domestic music. Apart from the 1842 'Erlkönig' setting she wrote two sets of three songs Op. 7 and Op. 10 (the latter is unmentioned in some catalogues but available on IMSLP), as well as two other songs for voice and piano (no year), a second, unpublished setting of Erlkönig (ca. 1870), and two songs for children which appeared posthumously in 1891. Her settings are lyrical and through-composed, in a style which recalls the Mendelssohns. She favoured established poets like Heinrich Heine, Wilhelm Müller and Helmine von Chezy as well as popular contemporaries like Hermann Kletke. Her Op. 10 includes an attractive setting of 'Der Neugierige', Müller's poem made famous in Schubert's Die schöne Müllerin.
Alongside composition, Mayer was also a sculptor and some of her pieces are preserved in collections today. Her estate is held by the Staatsbibliothek in Berlin; much of her music remains unpublished and unrecorded. A full catalogue of Mayer's works was published by Almut Runge-Woll in 2003.
© Natasha Loges, 2022
SCORES
Many scores for Emilie Mayer's work are available to view here.
Where can I listen to Emilie Mayer's songs?
'Du bist wie eine Blume' performed by Monica Music and Karen Roethlisberger Verm  -  recorded in October 2020 at Rice University, Houston. 
 
'Der Erlkönig', recorded at the 2022 Spring Song Festival. 
Song List
This list is likely to be of songs that have been performed at Oxford International Song Festivals and Oxford Song events, and may not be comprehensive of this composer's compositions. This database is ever growing as a work in progress, with further songs regularly being added.