Margarete Schweikert
Composer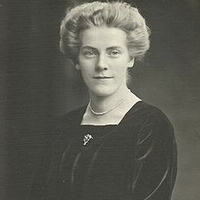 Margarete Schweikert
1887 - 1957
Forgotten Voices
Study event exploring the life and work of Margarete Schweikert. 
Filmed in March 2022 by TallWall Media. 
COMPOSER BIOGRAPHY
Margarete Schweikert (1887-1957) was a violinist, composer, pianist, teacher and critic based in Karlsruhe in South-West Germany. She received her first violin lessons from her father, a music-loving insurance salesman, and was taught piano by her mother and aunt. She began composing as a teenager, before studying violin, theory and composition both locally and then in Stuttgart. By her twenties, her songs, chamber music and choral works were regularly performed in Karlsruhe. Her fairy-tale opera Der Froschkönig was highly regarded. Three sets of songs were published in the 1910s with the Munich-based publisher Wunderhorn.
During World War I, Schweikert maintained a career as a violin teacher, performer and critic in the Karlsruhe press. According to her daughter, she met Richard Strauss, and despite being a published composer, she recalled that she would 'rather have bitten out her tongue' than told him she composed. Later on, she staunchly championed the music of Max Reger. During the 1920s, she ran a concert series from her parents' home. She married the banker Hermann Voigt in 1923 and bore their only child a year later. She had to work in her aunt's jewellery shop, reducing the time available for music.
In the 1930s, her husband was a member of NSDAP (Nationalsozialistischen Deutschen Arbeiterpartei); in common with other party wives, she had to stop her professional work. During World War II she was able to work as a violinist and teacher and was named cultural advisor to the National Socialist Women's Association on her fiftieth birthday. A cancer diagnosis followed in 1942; the following year, her father died and her husband committed suicide.
Many of Schweikert's compositions were stored, along with valuables, in a bunker for safekeeping. While the valuables were not recovered, in winter 1945/6, the water-damaged manuscripts were returned to her. After the war, she returned to composition, writing new songs and piano works. In 1950 she was a co-founder of the Association of German and Austrian Artists and Art-Lovers (Gemeinschaft deutscher und österreichischer Künstlerinnen und Kunstfreundinne), GEDOK. She died of cancer in 1957.
Schweikert wrote at least 170 songs. She favours a sensuous, late Romantic style which spans Brahms to Richard Strauss, sharing the tendency to melancholy typical of the turn of the twentieth century. The songs are often harmonically adventurous, with beautifully shaped phrases for the voice, within clear structures (see, for example, the prayerlike simplicity of 'Mädchengebet', the rhapsodic balladry of 'Gomorra', the free-floating 'Glocken' or the exquisitely moving 'Verlorene Liebe'). Her piano writing is well-judged, more transparent than that of many contemporaries. Her choice of poet included typical figures like Goethe but also contemporaries like Gustav Falke.
Many of her compositions are still unpublished, held by the Badischen Landesbibliothek in Karlsruhe and the Archiv Frau und Musik in Frankfurt, including much piano, chamber and choral music. A wide selection of songs is available through Stretta Music, edited by Jeannette La Deur, who has also recorded a selection on disc.
© Natasha Loges, 2022

  
Where can I listen to Margarete Schweikert's songs?
Listen to Kitty Whately and Joseph Middleton perform songs by Margarete Schweikert here, on their album 'Befreit - A Soul Surrendered' released in February 2023.
'Vier Lieder nach Gedichten von Martha Kropp' - listen on Spotify.

'Meine Hoffnung' - listen on Spotify. 
'Blumenlieder', recorded at the 2022 Spring Song Festival. 

SCORES
Margarete Schweikert's works remain in copyright in the UK.
Many scores are available through Furore Verlag.
Some scores may also be available here.
Song List
This list is likely to be of songs that have been performed at Oxford International Song Festivals and Oxford Song events, and may not be comprehensive of this composer's compositions. This database is ever growing as a work in progress, with further songs regularly being added.