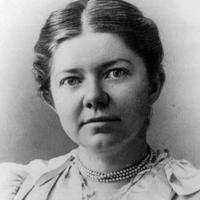 Amy Beach
1867 - 1944
Forgotten Voices
The composer and pianist Amy Beach (1867-1944) is recognised as a leading figure in American music, the first woman to gain success with large-scale musical forms. She came from a prosperous family in New Hampshire. Her mother Clara Cheney was a talented amateur singer and pianist. Beach showed exceptional musical promise at an early age and was performing canonic piano repertoire as well as her own music by the age of seven. Although her family was advised to further her musical education in Europe, they kept her in Boston.
Among the circle of men who oversaw Beach's development was the physician and amateur singer Henry Beach (1843–1910), whom she married in 1885. Thereafter, he demanded that she no longer perform in public, so she limited herself to annual charity recitals and turned her energies to composition, training herself independently over the next ten years. She was only able to travel to Europe to further her career after the deaths of her husband in 1910 and her mother in 1911. From 1921 she was a fellow at the MacDowell Colony, where she composed almost all her later works. Most of her music was published in her lifetime.
Beach's style is strongly influenced by European music. She wrote songs throughout her life, resulting in around 150 works, many of which were regularly heard in concerts in her lifetime. Two of them ('Ecstasy' Op. 19 no. 2 and 'The Year's at the Spring' Op. 44 no. 1) sold thousands of copies, testifying to her popular appeal. Like Brahms and Schumann, she often integrated vocal melodies into her instrumental music.
As Beach aged, her style matured, deeply integrating late-Romantic chromaticism. She grew increasingly adventurous with harmony and modulation. However, her piano accompaniments are relatively modest in technical demands, making her music easy to include in programmes.
Her lyrical early songs set texts by a range of lesser-known contemporary poets (including some of her own) alongside established favourites such as Browning, Tennyson and Burns. She set texts in English, German and French. 'Le secret' Op. 14 no. 2 and the 'Canzonetta' Op. 48 no. 4 are lovely examples of her ease with not only the French language but also its graceful style. But equally, her songs can sit alongside those of Strauss and Mahler, such as her beautifully spare 'Nachts', Op. 35 no. 1 and 'Ich sagte nicht' Op. 51 no. 1. Like many contemporaries, she developed an interest in folk songs in the 1890s, resulting in about thirty songs which drew on music of various origins including Balkan, African American, and Native American. We hear this in guileless folk melodies such as in the gorgeous 'Within thy Heart' Op. 29 no. 1 or the lilting lullaby 'Sleep, little darling' in the same opus.
While Beach is firmly established as a significant song composer, her music has yet to appear regularly on recital programmes. One-third of her oeuvre remains unrecorded and there is no critical edition of her songs at the time of writing. 
© Natasha Loges, 2022
SCORES
Many scores for Amy Beach's work are available to view here.
Where can I listen to Amy Beach's songs?
Listen to various songs by Amy Beach here - complete album on Spotify. 

'Ah, Love, but a day' from Three Browning Songs - listen here. 
'Three Browning Songs'

'Je demande à l'oiseau'.  Recorded live at the Oxford Song 2022 Spring Festival by TallWall Media. 
Song List
This list is likely to be of songs that have been performed at Oxford International Song Festivals and Oxford Song events, and may not be comprehensive of this composer's compositions. This database is ever growing as a work in progress, with further songs regularly being added.