Régine Poldowski
Composer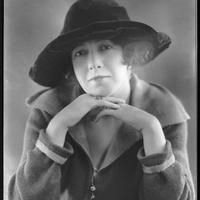 Régine Poldowski
1879 - 1932
Forgotten Voices
Poldowski was born Régine Wieniawski, daughter of the Polish violinist and composer Henryk Wieniawski. Her famous father died when she was ten months old. Poldowski moved among the musical aristocracy from an early age and performed her own music publicly when still a teenager.
In 1896 she and her mother moved to London, where her first works were published under the name 'Irène Wieniawska'. After her marriage in 1901 to Sir Aubrey Dean Paul, she was also known by many combinations of her married and maiden names. Her legacy is further complicated by her cosmopolitan background, since her mother Isabelle Hampton was English and she was born in Brussels. After the death of her first child, her marriage eventually collapsed and she moved to Paris for further studies. She took the pseudonym 'Poldowski'. Two songs are associated with her child's death: 'Soir' and 'Berceuse d'Armorique'; the former opens with ambiguous, oscillating chords before the plangent oboe d'amore joins and the song unfolds into a hearfelt lament. Tragically, both her surviving children were drug addicts. 
Poldowski enjoyed a successful career as a composer and pianist in the 1910s, her music championed by a range of figures including the pianist Lazare Lévy and the conductor Henry Wood. Her songs were championed by stars like Gervase Elwes, who sang her Verlaine settings and regularly championed her music until his untimely death in 1921.
In 1919-22, Poldowski lived in the USA. Her opera Silence was premiered in London in 1920. Upon her return to London she moved within powerful musical circles. She ran important concert series in New York and London in the early 1920s which attracted international artists, as well as a fashion boutique. Her work was regularly performed during the 1910s and 1920s in Belgium, the Netherlands, London and Paris, by singers like Elwes, Maggie Teyte and Jane Bathori-Engel. She developed pneumonia and died in London aged 52.
Poldowski is particularly important for her 22 settings of Verlaine, which are among the finest in existence. She also set texts by William Blake, W. B. Yeats, Alfred, Lord Tennyson and of her own composition. Her style reflects the full range of early 20th-century French trends, with a subtle approach to harmony and text and a unique voice. Her Blake setting, 'Song', creates an austere, medieval atmosphere which recurs, transformed, in 'Dans la musette'. She creates glowing, sparkling textures in 'Sérénade' and 'Mandoline', Wolfian demonism in 'Cortège', and guileless lyricism in 'L'heure exquise'. 'Effet de neige' shows her harmonic assurance in its unfathomable, dark opening chords, as do the searching 'À Clymène' and the sublimely contoured 'Dimanche d'avril' and 'Bruxelles'. There are many discoveries to be enjoyed here.

© Natasha Loges, 2022
SCORES
Many scores for Poldowski's work are available to view here.
Where can I listen to Poldowski's songs?
Listen to 'Colombine' here.

'Mandoline'

'Mandoline' - recorded at the 2020 Festival.

L'heure exquise
Song List
This list is likely to be of songs that have been performed at Oxford International Song Festivals and Oxford Song events, and may not be comprehensive of this composer's compositions. This database is ever growing as a work in progress, with further songs regularly being added.