Wilhelmina Christiane von Chézy
Poet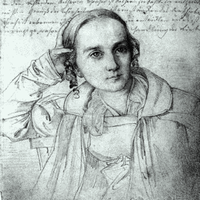 Wilhelmina Christiane von Chézy
1783 - 1862
Helmina von Chézy, née Wilhelmine Christiane von Klencke, was a German journalist, poet and playwright. She is known for writing the libretto for Carl Maria von Weber's opera Euryanthe (1823) and the play Rosamunde, for which Franz Schubert composed incidental music.
Helmina was born in Berlin, the daughter of Prussian officer Carl Friedrich von Klencke and his wife Caroline Louise von Klencke (1754–1802), daughter of Anna Louisa Karsch and herself a poet. The marriage of her parents had already broken up at her birth and she was partly raised by her grandmother. She debuted as a writer at the age of 14.
Married the first time in 1799, she divorced the next year and upon the death of her mother moved to Paris, where she worked as a correspondent for several German papers. From 1803 to 1807 she edited her own Französische Miszellen ("French Miscellanea") journal, commenting on political issues, which earned her trouble with the ubiquitous censors.
Taken from Wikipedia. To view the full Wikipedia article please click here.
Song List
This list is likely to be of songs that have been performed at Oxford International Song Festivals and Oxford Song events, and may not be comprehensive of this composer's compositions. This database is ever growing as a work in progress, with further songs regularly being added.