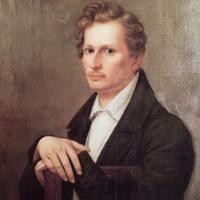 August von Platen
1796 - 1835
Karl August Georg Maximilian Graf von Platen-Hallermünde was a German poet and dramatist. In German he mostly is called Graf (Count) Platen.
August von Platen was born on 24 October 1796 at Ansbach, the son of the Oberforstmeister (a senior public servant) of that state, Count Philipp August von Platen-Hallermünde, by second wife Baroness Christiane Eichler von Auriz. Shortly after his birth Ansbach and other Franconian principalities became incorporated with Bavaria. Platen entered the school of cadets (Kadettenhaus) in Munich, Bavaria, where he showed early poetic talent. In 1810 as an adolescent he passed into the royal school of pages (Königliche Pagerie).
In 1814 Platen was appointed lieutenant in the regiment of Bavarian life-guards. With them he took part in the short campaign in France of 1815, being in bivouac for several months near Mannheim and in the department of the Yonne. He saw no fighting, however, and returned home with his regiment towards the close of the same year. Desiring to study, and finding garrison life distasteful, he obtained a long leave of absence, and after a tour in Switzerland and the Bavarian Alps, entered the university of Würzburg in 1818 as a student of philosophy and philology.
Taken from Wikipedia. To view the full article, please click here.
Song List
This list is likely to be of songs that have been performed at Oxford International Song Festivals and Oxford Song events, and may not be comprehensive of this composer's compositions. This database is ever growing as a work in progress, with further songs regularly being added.