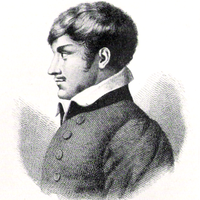 Ernst Schulze
1789 - 1817
Ernst Conrad Friedrich Schulze was a German Romantic poet. He was born and died in Celle.
The son of the Mayor of Celle, his mother died while he was only two years old and much of his early education was overseen by his two grandfathers, who were a Celle bookseller and a minister.
Widely respected by his contemporaries in early youth, he found himself increasingly drawn into a new poetische Welt (world of poetry) in his mid-teens, showing a particular interest in folklore, fairy tales and diverse French literature. He said of himself, "I lived in a fantasy world and was on the way to becoming a complete obsessive." Despite these early Romantic daydreams, he was able to apply himself to his school work and was, at age 16, a model student.
Given his upbringing, it is probably unsurprisingly that he initially studied theology at the Georg-August University of Göttingen from 1806. He went on to study philosophy, literature and aesthetics from 1808, and received his doctorate in 1812. Afterward, he devoted himself to philology, which he taught privately in Göttingen. During his time at university he became a member of the Göttingen 'Corps Hannovera', one of the original German Student Corps.
Taken from Wikipedia. To view the full article, please click here.
Song List
This list is likely to be of songs that have been performed at Oxford International Song Festivals and Oxford Song events, and may not be comprehensive of this composer's compositions. This database is ever growing as a work in progress, with further songs regularly being added.