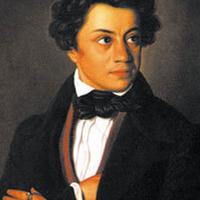 Julius Mosen
1803 - 1867
Julius Mosen was a German poet and author of Jewish descent, associated with the Young Germany movement, and now remembered principally for his patriotic poem the Andreas-Hofer-Lied.
Julius Mosen (Julius Moses) was born at Marieney in the Saxon Vogtland, the son of Johannes Gottlob Moses, the cantor and schoolmaster of Marieney. He studied at the Gymnasium in Plauen from 1817 to 1822, and afterwards studied law at the University of Jena. During a two-year-long visit to Italy, he received the inspiration that resulted several years later in his major works (Ritter Wahn, Cola Rienzi, Der Kongreß von Verona).
A steel engraving inspired by Mosen's "Die letzte zehn" poem
On his return, he finished his law studies at Leipzig, where he then worked as a lawyer. From 1835 to 1844 he was an independent advocate in Dresden. He had meanwhile shown great literary promise in his Lied vom Ritter Wahn (1831). This was followed by the more philosophical Ahasvar (1838), and by a volume of poems, Gedichte (1836, 2nd ed., 1843), among which Andreas Hofer and Die letzten Zehn vom vierten Regiment became popular. As an active freemason in Dresden he encountered several important literary figures, including Ludwig Tieck, Ludwig Uhland, Georg Herwegh, Richard Wagner and Gottfried Semper, and was soon himself reckoned to be among the best-known German poets.
Taken from Wikipedia. To view the full article, please click here.
Song List
This list is likely to be of songs that have been performed at Oxford International Song Festivals and Oxford Song events, and may not be comprehensive of this composer's compositions. This database is ever growing as a work in progress, with further songs regularly being added.
| | |
| --- | --- |
| Der Nussbaum (1840) Op. 25 no.3 i–early iv 1840 | Robert Schumann |