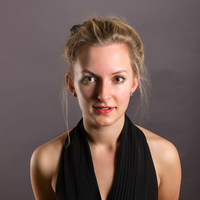 An alumnus of Chetham's School of Music and the Guildhall School of Music and Drama, Natalie Burch is a dedicated song pianist and curator, interested in the political and social intersection of music and its audiences. She regularly presents recitals at festivals across the country, is an advocate for increasing female representation in the song-piano world and is co-founder of the Devon Song Festival, which returns in 2023 following a hiatus.
Much in demand as a song specialist, Natalie regularly collaborates with a number of award-winning artists. Recent and future projects include her debut at the Aldeburgh Festival alongside Lotte Betts-Dean and James Way, a performance of Ukranian composer Valentin Silvestrov's 'Silent Songs' at the Oxford Lieder Festival and the release of her debut disk with Camilla Harris on Linn Records.
Natalie is also producing a recital project with Fleur Barron and Francesca Chiejina, due to be recorded in December this year with Delphian Records. This song-recital disk project will document what it feels like to be a part of society in England in 2022, exploring the challenges we face, collectively and individually, balanced with a celebration of the hope that can still be found around us in the British landscape.
Past performance highlights include Brahms' Liebeslieder Walzer and Stephen Hough's Other Love Songs at Wigmore Hall, a new commission by Daniel Kidane for St. John's Smith Square, performances at the Sage Gateshead, Blackheath Halls, the Little Venice Festival, International Lied Festival Zeist and the Oxford Lieder Festival as well as a recording with tenor Robert Murray for BBC Radio 3's Private Passions and a concert tour with RPS nominated soprano/composer Héloïse Werner.
Natalie won the accompaniment prize at the 2015 Maureen Lehane Awards at Wigmore Hall, was a finalist alongside Song Prize winner Helen Charlston (2020) and 2nd Prize winner James Way (2017) at the Kathleen Ferrier Awards and is an alumnus of the Britten-Pears, Leeds Lieder and International Lied Festival Zeist Young Artist Programme and is a Samling Artist. In 2019 She competed at both the Das Lied and Wigmore Hall International Song competitions, performing alongside mezzo Felicity Turner. 
Natalie co-directs the multi-voice song ensemble, SongSpiel, with whom she has recently toured Cheryl Frances-Hoad's The Thought Machine in an Arts Council funded project with Ensemble Perpetuo. The group are soon to appear as part of St David's Hall, Cardiff's 'NightMusic' series performing a diverse programme of Brahms, Rorem, Messiaen and Marsey and recently recorded William Marsey's Austerity Songs in collaboration with the Red House, Aldeburgh. Natalie is founder of the Devon Song Festival which returns following a pandemic-induced hiatus in 2023.
Resident pianist and trustee for Opera Prelude, Natalie regularly plays for masterclasses given by eminent singers and teachers including Sir John Tomlinson, Roderick Williams, Neil Shicoff and Dame Anne Evans. She has worked as a repetiteur and orchestral pianist under conductors such as Alice Farnham and Jessica Cottis as well as performing in unconducted orchestras and directing small ensembles from the piano, including as orchestral pianist with the Shanghai Opera for the UK premier of their production of The Wager at the Barbican and as part of the ensemble for SWAP'RA gala at Opera Holland Park.
Natalie studied at the Guildhall School of Music & Drama where she was a fellow and gained her Masters with distinction under Eugene Asti and Andrew West. She studied at Chetham's School of Music and in 2014 graduated with first class honors in musicology from King's College London with piano at the Royal Academy of Music. She continues her studies with Susan Manoff. 
Updated: 18/05/2023