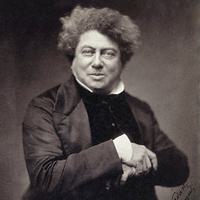 Alexandre Dumas
1802 - 1870
Alexandre Dumas was a French writer. He is very widely read, and is particularly known for his novels The Three Musketeers and The Count of Monte Cristo.
The English playwright Watts Phillips, who knew Dumas in his later life, described him as "the most generous, large-hearted being in the world. He also was the most delightfully amusing and egotistical creature on the face of the earth. His tongue was like a windmill – once set in motion, you never knew when he would stop, especially if the theme was himself."
Information from Wikipedia. Read more here.
Song List
This list is likely to be of songs that have been performed at Oxford International Song Festivals and Oxford Song events, and may not be comprehensive of this composer's compositions. This database is ever growing as a work in progress, with further songs regularly being added.