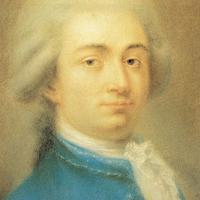 Carlo Goldoni
1707 - 1793
Carlo Goldoni was a prolific dramatist who renovated the well-established Italian commedia dell'arte dramatic form by replacing its masked stock figures with more realistic characters, its loosely structured and often repetitive action with tightly constructed plots, and its predictable farce with a new spirit of gaiety and spontaneity. For these innovations Goldoni is considered the founder of Italian realistic comedy. 
The precocious son of a physician, Goldoni read comedies from his father's library when young and ran away from school at Rimini in 1721 with a company of strolling players. Back in school at the papal college in Pavia, Goldoni read comedies by Plautus, Terence, and Aristophanes. Later he studied French in order to read Molière.
For writing a satire on the ladies of the town, Goldoni was expelled from the Ghislieri College in Pavia, and he reluctantly began law studies at the University of Pavia. Although he practised law in Venice and Pisa and held diplomatic appointments, his real interest was the dramatic works he wrote for the Teatro San Samuele in Venice and later for the Teatro San Luca (now the Teatro Goldoni). He was a prolific writer of comedies, opera seria and operia buffa, Among his most famous works for the theatre is The Servant of Two Masters.
In 1762 Goldoni left Venice for Paris and retired in 1764 to teach Italian to the princesses at Versailles. After the French Revolution his pension was cancelled, and he died in Paris in dire poverty
His poem La Pastorella al Prato (The sheperdess in the meadow) was set twice by Schubert, as D513 for male quartet and piano, and D528 for soprano and piano.
Taken from Encyclopedia Britannica. To view the full article, please click here.
Song List
This list is likely to be of songs that have been performed at Oxford International Song Festivals and Oxford Song events, and may not be comprehensive of this composer's compositions. This database is ever growing as a work in progress, with further songs regularly being added.