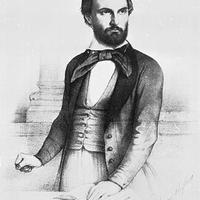 Gottfried Kinkel
1815 - 1882
Johann Gottfried Kinkel was a German poet also noted for his revolutionary activities and his escape from a Prussian prison in Spandau with the help of his friend Carl Schurz.
He was born at Oberkassel (now part of Bonn). Having studied theology at Bonn and Berlin, he established himself at Bonn in 1836 as a Privatdozent, or theology tutor, became master at the secondary school there, and was for a short time assistant preacher in Cologne.
Changing his religious opinions, he abandoned theology and delivered lectures on the history of art, in which he had become interested on a journey to Italy in 1837. In 1843, he married Johanna Mockel (1810–1858), a writer, composer and musician who assisted her husband in his literary work and revolutionary activities. They had four children. In 1846 he was appointed extraordinary professor of the history of art at the University of Bonn.
Taken from Wikipedia. To view the full article, please click here.
Song List
This list is likely to be of songs that have been performed at Oxford International Song Festivals and Oxford Song events, and may not be comprehensive of this composer's compositions. This database is ever growing as a work in progress, with further songs regularly being added.