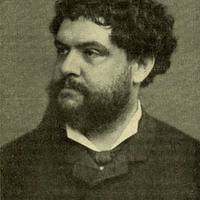 Jean Richepin
Jean Richepin, French poet, novelist and dramatist, the son of an army doctor, was born at Médéa, French Algeria.
At school and at the École Normale Supérieure he gave evidence of brilliant, if somewhat undisciplined, powers, for which he found physical vent in different directions—first as a franc-tireur in the Franco-German War, and afterwards as actor, sailor and stevedore—and an intellectual outlet in the writing of poems, plays and novels which vividly reflected his erratic but unmistakable talent. A play, L'Étoile, written by him in collaboration with André Gill (1840–1885), was produced in 1873; but Richepin was virtually unknown until the publication, in 1876, of a volume of verse entitled La Chanson des gueux, when his outspokenness resulted in his being imprisoned and fined for outrage aux mœurs.
The same quality characterized his succeeding volumes of verse: Les Caresses (1877), Les Blasphèmes (1884), La Mer (1886), Mes paradis (1894), La Bombarde (1899). His novels have developed in style from the morbidity and brutality of Les morts bizarres (1876), La Glu (1881) and Le Pavé (1883) to the more thoughtful psychology of Madame André (1878), Sophie Monnier (1884), Cisarine (1888), L'Aîné (1893), Grandes amoureuses (1896) and La Gibasse (1899), and the more simple portrayal of life in Miarka (1883), Les Braves Gens (1886), Truandailles (1890), La Miseloque (1892) and Flamboche (1895).
Taken from Wikipedia. To view the full article, please click here.
Song List
This list is likely to be of songs that have been performed at Oxford International Song Festivals and Oxford Song events, and may not be comprehensive of this composer's compositions. This database is ever growing as a work in progress, with further songs regularly being added.