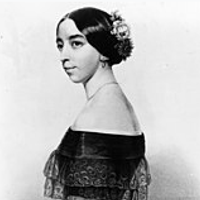 Pauline Viardot
1821 - 1910
Pauline Viardot, née Garcia (1821-1910) was one of the most remarkable, accomplished musical professionals of the 19th century. Born into a family of music professionals, she wanted to be a pianist, but following the early death of her sister soprano Maria Malibran, her family insisted that she train as a singer. She enjoyed a stellar, international career initially as a singer, then as a sought-after teacher. She composed all her life, moving with protean ease between the various national styles she assimilated: Spanish, French, Italian, English, German and Russian.
Many composers turned to her not only to sing in their operas, but to offer considerable assistance with composition, including Meyerbeer, Berlioz (who also fell in love with her), Gounod and Massenet. Brahms asked her to sing the first performance of his Alto Rhapsody.
Pauline Garcia made the wise decision to marry Louis Viardot, who was considerably older than she was, and supported her career unstintingly. The Russian writer Ivan Turgenev fell in love with her and remained her lifelong companion, often living with or near to her family. However, the unusual ménage-à-trois was harmonious, and she had the best of both worlds. Unlike her friend Clara Schumann, she made careful decisions about the number of children she could sustain. Two of her children became musicians in turn, and Louise Héritte-Viardot was a composer in turn.
During the 1860s, the Viardots – who were committed republicans – moved to Baden-Baden, where she composed operettas for her many students and hosted an important salon. They returned to Paris after the defeat of Napoléon III, where she continued to teach and host her salon for several decades more.
Viardot wrote more than 100 songs, exploring the best of contemporary poetry in the texts of Musset, Turgenev, Pushkin, Gautier, Mörike, Goethe and others. She also made extremely popular arrangements of Chopin's mazurkas with added texts. Her style is elusive, absorbing the best of the German, Russian, French, Spanish and Italian influences which surrounded her. Her formal range is vast, from simple folk-like songs to through-composed large-scale structures. She deserves far greater recognition for her compositional achievements.
Most of her songs were published during her lifetime, but Viardot did not maintain a work catalogue or chronology; moreover, many of the songs were translated into different languages, so exist under multiple titles. A complete, searchable list of songs can be found here: https://www.pauline-viardot.de/Werkverzeichnis_englisch.htm
A full catalogue with musical incipits can be found here: https://prism.ucalgary.ca/handle/1880/49849. There is no complete critical edition or recording of the songs although a wide selection is available. Thanks to her vast stylistic range, it is easy to incorporate her songs into recital programmes.
© Natasha Loges, 2022