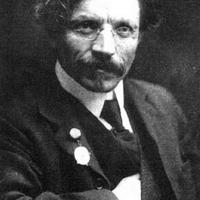 Sholem Aleichem
1859 - 1916
Solomon Naumovich Rabinovich, better known under his pen name Sholem Aleichem, was a leading Yiddish author and playwright. 
The musical Fiddler on the Roof, based on his stories about Tevye the Dairyman, was the first commercially successful English-language stage production about Jewish life in Eastern Europe.

His pen name, Sholem Aleichem, literally means "[May] peace [be] upon you!", and is a greeting in traditional Hebrew and Yiddish.
Song List
This list is likely to be of songs that have been performed at Oxford International Song Festivals and Oxford Song events, and may not be comprehensive of this composer's compositions. This database is ever growing as a work in progress, with further songs regularly being added.