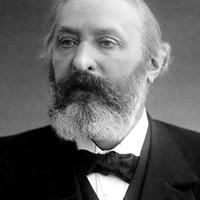 Sully Prudhomme
1839 - 1907
René François Armand (Sully) Prudhomme was a French poet and essayist, and was the first ever winner of the Nobel Prize in Literature, in 1901.
Born in Paris, Prudhomme originally studied to be an engineer, but turned to philosophy and later to poetry; he declared it as his intent to create scientific poetry for modern times. In character sincere and melancholic, he was linked to the Parnassus school, although, at the same time, his work displays characteristics of its own.
Prudhomme attended the Lycée Bonaparte, but eye trouble interrupted his studies. He worked for a while in the Creusot region for the Schneider steel foundry, and then began studying law in a notary's office. The favourable reception of his early poems by the Conférence La Bruyère (a student society) encouraged him to begin a literary career.
Taken from Wikipedia. To view the full article, please click here.
Song List
This list is likely to be of songs that have been performed at Oxford International Song Festivals and Oxford Song events, and may not be comprehensive of this composer's compositions. This database is ever growing as a work in progress, with further songs regularly being added.